n the 15th and 16th centuries, Indians used to export Indian spices to middle Europe and other countries and these species were so popular that made Britishers, Dutch and Portuguese people come to India for business purposes. Indian species don't just add flavor and taste to the cuisines, but also have some amazing health benefits too. This is the reason why India spices are popular across the globe and are used as added while cooking cuisines to make dishes more delicious and nutritious.
If you accidentally enter any Indian kitchen, maybe your colleague's home or any Indian restaurant kitchen, you will find a wide range of jars of colorful spices in the cupboard. You might actually ask yourself, "Do these all species are used to cook Indian food?"
The answer is yes. If you want to cook Indian food, you need to know about various spices and their usage and benefits. We will discuss several Indian spices in length.
Asafoetida (Hing)
Asafoetida is available in the form of powder and is used as the flavoring agent for the dish. The fragrance of the dish with asafoetida is enticing and attractive, luring the foodie towards the dish. Apart from flavor, asafoetida also has some excellent medicinal properties too. In alternative Ayurvedic treatment, asafoetida is used to treat patients with stomach and digestive issues. If you are suffering from acidity more often, a pinch of asafoetida with a glass of water can make you feel better. Also, it is beneficial for gastric issues too.
Black and Green cardamom (Elaichi)
Cardamom also serves as a flavoring agent and is superbly aromatic. You will surely fall in love with the aroma of cardamom. Also, cardamom is used as an ingredient for Indian gravies, rice, and some other vegetable dishes. Cardamom has antioxidant and diuretic properties and also may contain cancer-fighting compounds. Cardamom is also helpful if you are suffering from gastric ulcer or digestive issues. Also, it is effective to treat bad breath.
Green cardamom is also added in pulao, Biryani, and other sweet dishes for flavor.
Black pepper (Kali Mirch)
You cannot imagine a single Indian dish without black pepper as it is an important taste and flavoring agent to add the aroma of the dish. Furthermore, it has anti-inflammatory properties and may also improve blood sugar levels in the body. It is also high in antioxidants to fight against free radicals.
Carom seeds (Ajwain)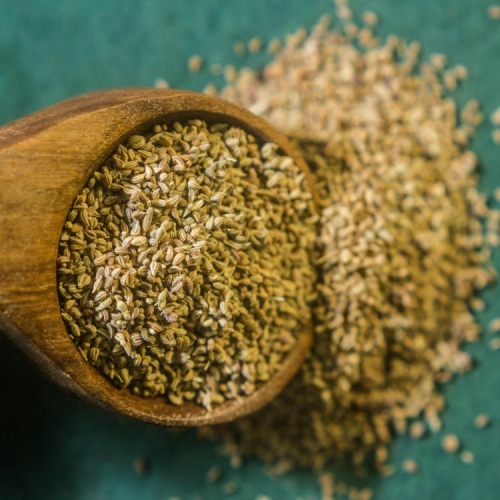 Carom seeds are mostly used in fried food dishes such as deep-fried bhajiya, samosa, breads and other savory dishes. It is also a flavoring and taste enhancer spice and has antibacterial and antifungal properties that help a body to fight against bacteria and viruses. Also, it is believed that regular consumption of carom seeds can lower your bad cholesterol levels and also fight against peptic ulcers and help in digesting.
Turmeric (Haldi)
Almost added in all the Indian food dishes, turmeric helps to bring that yellowish and rich red color of the dish and is often recognizable for its bright and colorful hue. Moreover, it has some remarkable health benefits. It helps in controlling blood pressure and blood sugar levels. Also, it is believed that turmeric can fight inflammation and has prevented cancers too. Also, it might prevent Alzheimer's disease and heart disease too.
Cloves (Laung)
Mostly cloves are used as an aroma enhancer and to make spice blends and is used in various Indian dishes. It imparts a sweet aroma to the dish and makes it more delectable. Furthermore, if you are suffering from nausea, cough and cold, putting a clove in your mouth can help you. Also, it is believed that it improves liver health and regulates blood sugar levels. It also has some important nutrients.
Coriander seeds and powder (Dhaniya)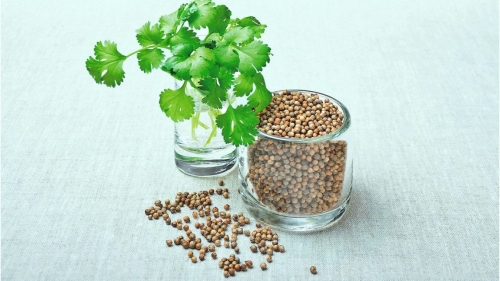 Coriander seeds are used for different types of tadkas (it is called tempering) and also used in spice blends. On the other hand, coriander powder is a taste and flavor enhancer and is used as the main base sauce in most of the Indian dishes. Coriander is a good source of fiber, manganese, magnesium, and iron and is rich in vitamin C, vitamin K, and protein. It also promotes gut and digestion health and may fight infections too.
Cumin seeds and powder (Jeera)
Cumin seeds is the main ingredient in making different spice blends for gravies and other Indian dishes and is one of the most beneficial Indian spices with a wide array of health benefits. Apart from improving digestion and gut health, it is also a good source of iron, plant compounds and may help with diabetes, high blood cholesterol levels, and blood sugar levels, promote weight loss and fat reduction, and is believed to help with drug dependence.
Dry Fenugreek leaves (Kasuri Methi)
Dry Fenugreek leaves are used mostly in North Indian cuisines, especially Punjabi. It is mostly used as an aroma enhancer and improves the fragrance and taste of the dish. When it comes to the health benefits of this Indian spice, it improves the cholesterol levels, improves digestion, reduces menstrual cramps, reduces appetite, maintains liver and kidney health and soothes muscle pain too.
Mustard Seeds (Rai)
Mustard seeds are one of the India spices that are used in eastern and southern Indian dishes and are an aroma enhancer and improves the taste too. It is also used to make spice blends too. It has calcium, dietary fiber, iron, manganese and magnesium, and selenium that helps to prevent asthma, heart attacks, and some cancers.