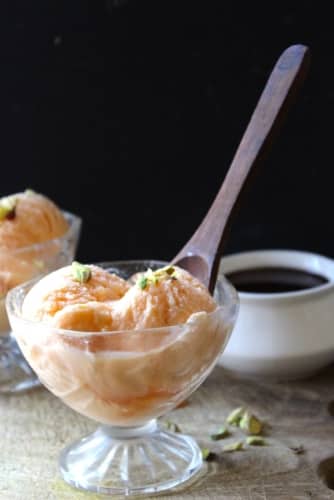 Fusion Ice Cream (Eggless Ice Cream Made With A Combination Of Indian And Western Ingredients)
27 March, 2017
With the summers around the corner everyone would be thinking of the coolers they would be enjoying as the rays of the Sun grow stronger.Summers in India are very stubborn,merciless and unending as far as the heat is concerned.We have a lot of companies sell their ice creams but for some people they are a taboo as they contain eggs.So here is a great way to have your ice cream with an amazing taste,eggless and with a hint of Indian in it! Why have I named it Fusion Ice Cream?Because it has ingredients of the normal ice cream including Vanilla Essence.Plus it has Indian ingredients like khoya/mawa and one very special exotic ingredient!That is – Nannari Syrup! What is Nannari Syrup? Nannari is a herb,the official name for which is 'Sarasaparilla' which is known for its cooling properties and speciality to cure summer ailments!Just as we pour Chocolate,Maple,Caramel or Toffee sauces over our normal ice creams,I have poured this over this fusion ice cream and it tastes so good!You can get Nannari Syrup online from Amazon or eBay stores.Those in the South Indian regions will have it available at any supermarket or store and so can get it easily.Its an orangish,amber,wonderfully sweet,cooling and refreshing syrup which is used with water or soda to make a drink or used with milk based preparations as well.I have used this with my ice cream and it was fabulous.
Ingredients  
500

ml

full cream milk

1/2

cup

Condensed milk

2

tbsp

sugar

more if needed

1/2

cup

Khoya/Mawa

crumbled – see recipe link below

1

tsp

Vanilla Essence

1

tsp

Ice Cream Essence

optional

A few drops of Orange Jalebi Colour

optional

1/2

cup

cream

beaten

1

tbsp

Pistachios – chopped

2

tbsp

Nannari Syrup

optional - see notes
Instructions 
Boil milk and reduce it to around half the quantity.Keep aside to come to room temperature.

Mix the condensed milk and the cream in another bowl and beat well to mix.After the reduced milk comes to room temperature,add the condensed milk and cream mixture,sugar,the khoya/mawa and the essences.

Mix very well so that the khoya completely dissolves in the liquid.Freeze.

After an hour take it out in a saucepan and beat for 2 – 3 minutes with the beater.Repeat this procedure after every hour at lease 8 – 9 times for perfect and creamy ice cream.

Cover with clingfilm and freeze overnight till frozen solid.
Notes
Pointers to follow :
I have used Condensed Milk but you can reduce the milk to a creamier consistency if you want.
I have used homemade Khoya/Mawa/Kova for the ice cream.However you can use store-bought as well.
Check the recipe for Instant Khoya/Mawa here
You can use Rose,Khus or Thandai syrups as well in case you do not get Nannari Syrup.They taste as delicious!
Use authentic Vanilla Essence for a great taste.I used Vanilla Bean Paste and Ice Cream Essence.If you do not have Ice Cream essence then use only vanilla essence.
I have used Orange Jalebi Colour for the ice cream but you can use a colour of your choice or opt out entirely if you want.
I beat the ice cream with an electric beater every 1 hour 8 – 9 times.Remember the more you beat the creamier the Ice Cream.