Quinoa Chicken Biryani: Thalassery Style
Yield / Serves
4 Servings
Ingredients for Chicken Masala : 1 1/2 cups Quinoa
1/2 kg chicken; cut into pieces
4 large big onions, finely sliced
3 to 4 green chilies, crushed
1 1/2 tablespoon Ginger & garlic paste
2 tomatoes, finely sliced
1/2 teaspoon Garam masala powder
1/4 cup coriander leaves, finely chopped
1/4 cup mint leaves, finely chopped
Ingredients for Quinoa : 2 Cardamom pods
2 medium pieces of cinnamon stick
1 teaspoon coriander leaves, finely chopped
1 teaspoon mint leaves, finely chopped
A pinch of turmeric powder
1/4 teaspoon Garam masala powder
1/4 cup coriander leaves, finely chopped
1/4 cup mint leaves, finely chopped
Method to prepare Chicken Masala : Wash and clean the chicken. Make small gashes on each piece and keep aside
Heat ghee/oil in a biryani pot.
Keep away 1/4 cup of sliced onions aside. Sauté the rest of the onions till it turns soft.
Add crushed chilies and ginger garlic paste. Add sliced tomatoes and sauté till raw smell goes away.
When oil appears, add chicken pieces and mix well.
Now add garam masala, chopped coriander and mint leaves, lemon juice and adequate salt. Combine well. Cover and cook till chicken is succulent and gravy has reduced to a thick masala.
Method to prepare Quinoa : In a large stock pot, heat ghee/oil. Add 1/4 cup of sliced onions and sauté until soft. Into this add the quinoa and roast for a few minutes (2 to 3 minutes approximately)
Add whole spices and stir till raw smell disappears. Now add few chopped coriander and mint leaves and salt and stir well.
Add water, cover and cook till quinoa is cooked and water has evaporated (this process takes about 15 to 20 minutes approximately). Once the quinoa is fully cooked, take it off the flame and let it rest for a few minutes. Then fluff it with a fork
Place the biryani pot with the cooked chicken on the flame. Spread the cooked quinoa evenly on top of the chicken masala.
Mix turmeric powder with juice from 1/2 a lemon. Drizzle this on top of the quinoa. Sprinkle 1/4 cup each of chopped coriander and mint leaves and garam masala powder.
Cover tight with a lid. Once steam appears, switch off the flame and allow it to be on the residual heat for 10 to 15 minutes.
Serve hot with a cool raita and with other accompaniments of your choice.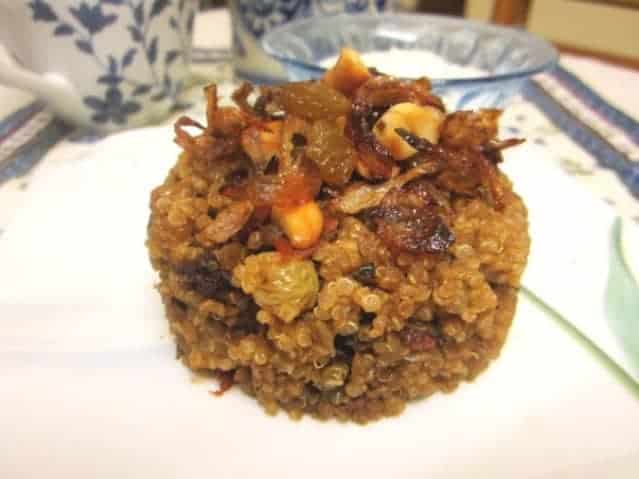 Recipe developed for quinoaguru.com by Donna George – A happy Home-maker and mother to a 3 year old is a passionate foodie and culinary blogger. She blogs at The Culinary Trail
Hailing from God's own country, Kerala; she lives in Bangalore with her husband and little daughter. Turning her passion for food into a profession, she is currently a Freelance Recipe Developer and Editor.
How useful was this post?
Click on a star to rate it!
Rated 4.9 based on 7 votes
Be the first to rate this post.