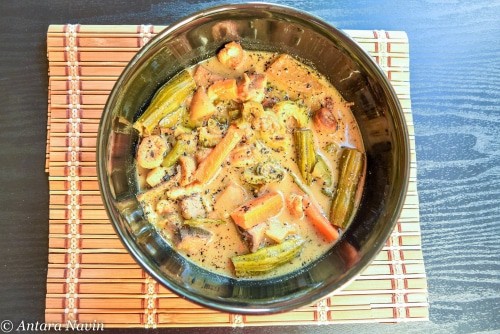 Dudh Shukto ( Bitter Sweet Vegetable Stew Cooked With Milk)
26 June, 2017
Dudh Shukto or bitter sweet vegetable stew cooked with milk is a bengali cuisine loaded with vegetables and minimal spices. The bitter gourd is a mandatory veggie that is needed for this recipe. You can use any vegetables but must include bitter gourd . However tomatoes, cauliflower and cabbage are excluded. An interesting fact is my mother never used to serve shukto in dinner. According to her, it should only be eaten in lunch. Shukto can be prepared in varied style like you can use milk and spices like radhuni masala or wild celery to flavor the curry. This type of preparation is done by the Bangals . Another style is using mustard seed and poppy seed paste along with milk . This type of preparation is done by the Ghotis. In this , I bring you the Bangal style. A statutory warning is this curry is bitter sweet , but it is healthy and nutritional
Ingredients
1/2

cup

sliced Bitter gourd

keep it in a separate bowl from the rest of the vegetables

1

Drumstick cut into 2-inch pieces

1/2

cup

Boris or vadi or lentil dumplings

1/2

cup

chopped carrots

1/2

cup

chopped beans

1/2

cup

chopped flat lima beans

1/2

cup

chopped Plaintain

cut into 1 inch size pieces

1/2

cup

chopped Ridge gourd

1/2

cup

chopped Sweet Potatoes

1/2

cup

chopped Potatoes

1

tbsp

wild Celery

radhuni masala

1

teaspoon

desi Ghee

optional

1/2

cup

Milk

Salt as per taste

1

tsp

Sugar

adjust as per your taste

1

tbsp

Mustard seeds

4

tbsp

Mustard Oil

1

tbsp

Panch Phoron or use the below ingredients :

1.5

tsp

Cumin seeds

1.5

tsp

Nigella seeds

kalonji

1.5

tsp

Fennel seeds

1.5

tsp

Mustard seeds

1/4

tsp

Fenugreek or methi seeds
Instructions
Heat a wok and add 2 tablespoon of mustard oil. When the oil is hot, add the boris and fry them till they turn golden brown. Take it out and keep it aside

Add the chopped bitter gourd into the same pan and fry them till they turn crispy and golden brown. Take it out and keep it aside.

Add the remaining mustard oil in the wok and heat it.

When the oil is hot, add half a tablespoon of mustard seeds, half a tablespoon of wild celery and half a tablespoon of panch phoron(or half of cumin seeds, half of nigella seeds, half of fennel seeds, half of mustard seeds and half of fenugreek seed)

When the seeds stop cracking, add all the vegetables except the bitter guard. Add salt as required. Fry them on medium high for 5 minutes.

Lower the heat and add a little water. Cover and cook on low medium heat till all the veggies become soft and cooked. Stir and mix in between.

While the vegetables are cooking, dry roast the remaining spices and grind it into a fine powder in a spice grinder. Add this ground spice into the milk. Mix well.

When the vegetables are cooked, remove the lid and add the spiced milk. Stir and mix.

Add water as required. Bring the curry to a boil and let the curry simmer on low heat for another 5 minutes.

Add sugar and ghee (optional ) into the shukto before turning off the heat.

Serve the dudh shukto at room temperature with steamed white rice.