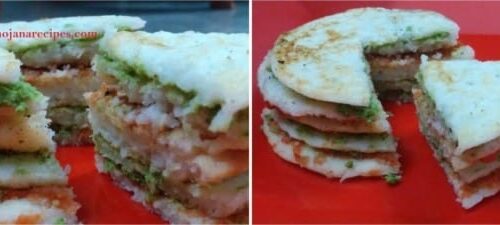 Dosa Sandwich
20 June, 2015
Who could say "No" to Dosa served with different chutneys? When the same dosa is made as sandwich with varieties of colourful spicy chutneys and served it becomes Ultimate!!
Ingredients  
Dosa Batter 500 ml

Any two varieties of Chutneys you prefer

Fresh Curd 1 cup

Idli powder

Gun Powder 2 tea spoons
Instructions 
Mix the Idli powder in curd and keep aside with other chutneys.Make Dosas in the usual dosa Tawa but not so crispy.

Make little thicker and cook on both sides with oil.Make dosas of around 10 and keep aside.

Now place a dosa on a plate. Spread Tomato chutney.Keep the next dosa over it. Spread Coconut chutney or Coriander or Mint chutney.Place another dosa and repeat the process with curd mix.Once it is done for five dosas take a knife and cut the dosas in to quarters.

Repeat this for the rest of five dosas also.The dosas melt into your mouth with different tastes of the chutneys and fresh curd.Your kids will love to have this Dosa Fun!!!
Notes
(Chutneys can be made in advance and refrigerated)