Neetha Bn, Popularly known as BBQ Queen is a multitalented entrepreneur.
She loves to cook and thus started "CookwithNeetha" an experiential cooking class which is not just an instructor led culinary class but an experience in itself. Learn while you have fun is her motto.
Cooking is just one of her talents, she also conducts workshops on soap making, candle making and carpentry etc. You can contact her via her Plattershare page : https://www.plattershare.com/neetha-bn or check out her FB page: Howaboutwee
Tell us about your culinary journey
My culinary journey started in the year 2008. I quit my corporate career and stayed home with my new born baby. This was the best time for me to unleash my culinary passion and convert it into a profession. My biggest inspiration was my brother who was doing his Hotel Management. I started experimenting with different kinds of cuisines. Making gourmet chocolates and baking at home brought lots of corporate orders. After this, I started conducting baking workshops at home and it was a super hit! And thus begin "cookwithNeetha", an experiential cooking class for people who want to explore cuisines of the world.
I love doing BBQ and have conducted many classes. It's a great pleasure to be associated with Weber since it is one of the best BBQ in the world. From conducting corporate bonding sessions at Weber for MNC's like HP, Dell, Delphi to becoming an F&B consultant, my culinary journey has seen many vibrant colours of life and I enjoy every bit of it. Seeing the amazing response, my husband Shawn and I setup "Howaboutwee". Howaboutwee focuses on exotic culinary events, experiential cooking and consulting for F&B (B2B).
We have done events for BOSCH, SIEMENS, JINDAL ARTTDINOX and Lakeland is in the pipeline.
Wow! That's quite a handful. What is experiential cooking?
Experiential cooking makes great sense to me. The general concept of learning through experience goes back a long time. There are many food enthusiasts who cook great food at Home. But culinary events organized by Howaboutwee gives a different dimension to their passion towards cooking. We create an experience for the participants that make them learn and explore food even more. There are many elements involved in experiential cooking. We make sure that everything is blended well.
You have been organizing various cooking classes. Tell us about them.
My cooking classes or experiences are very unique. Howaboutwee is mobile, we conduct these workshop in various parts of Bangalore – at activity centres, Apartments, Studios, Brand stores, Malls, etc. All our workshops are hands on. We also have a tasting session where participants can relish what's made during the session and carry back all the samples they made. We create experiences according to seasons and festivals. I have trained corporates, Individuals and kids (age 5 onwards). Kid's workshops have been super loved by all!
What is that one dish which you always want to prepare during your classes?
There is never one particular dish which i love to make during my class J. Each time it's a different experience!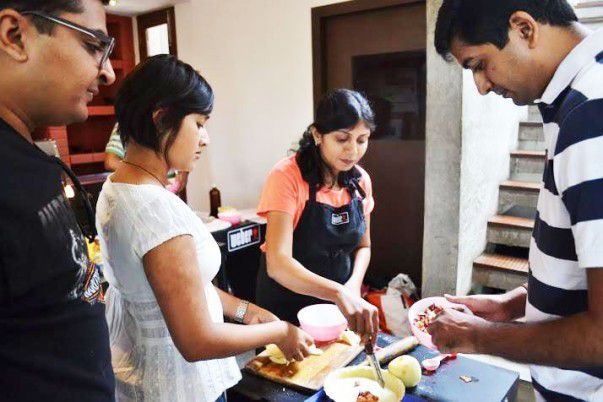 One dish which is loved by your clients.
My clients love all kinds of food that they learn. There are many signature dishes which I make. Few of them which is liked by many are Tamarind Peanut salad, Lemon cake with Lemon Curd, Nasi Lemak, Thai Fusion Rice, Multigrain Pizzas and Lava Cake.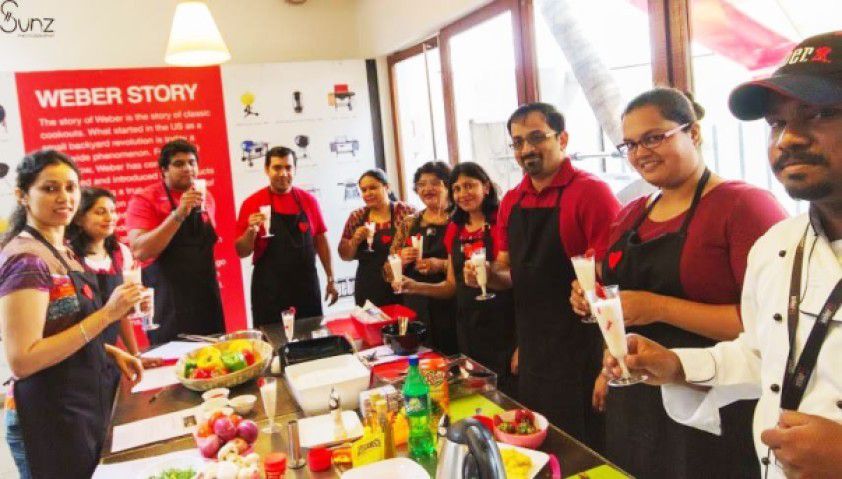 After class do you prefer making food at home or dine-out?
After class, I always love to explore something new again…So prefer to dine out