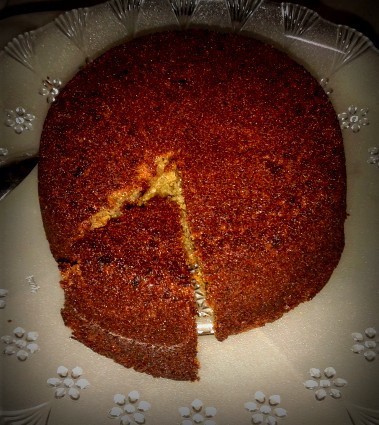 Date Cake
23 August, 2014
Date Cake is delicious cake that you can relish whenever you feel like desire for a cake....and you can have it without icing... I have made this into the cooker so you can't even give the excuse of microwave for trying my recipe... 🙂
Ingredients
Deseeded Dates

not the dry one- 20-25

condensed milk- 350 g

butter- 100 g

all purpose flour- 1 and a half cup

baking soda- 1/2 teaspoon

baking powder- 1 teaspoon
Instructions
soak the dates into the hot water for at least 20 minutes, water level should not exceed the level of dates into the cup.

sift all purpose flour add baking soda and powder to it and mix well.

now make a paste of dates and add melted butter and condensed milk to it.

add the batter made above into the flour.

beat the batter well and keep adding water to bring the consistency.

grease the pan and pour the batter into it.

take pressure cooker and spread the salt in the base.

now place a stand into the cooker and put the pan containing batter over that.

now cover the cooker, remove the whistle and put it on the flame for 25 minutes. Don't change the flame while its cooking.

after 25 minutes switch off the flame and open the cooker. Take the pan out of it and let it get a bit cool.

now, take the cake out of the pan and serve it after sometime.

note- you can bake it as well.