Baigan Ka Bhartha / Seasoned Roasted Eggplant Relish
Recipe Taste
Not Specified
Yield / Serves
2 Servings
Brinjal / Eggplant - 2 large
Tomatoes - 2 big, finely chopped
Green Chilies - about 3-4 finely chopped
Coriander leaves - 1/4 cup chopped
Wash and wipe the brinjal well. Coat the outer surface with oil and then it's ready for roasting. Roasting on the gas cooktop is the most easily and best method you can do to achieve that charred and smoky effect.
So take the greased eggplant and place it directly on the burner., keep the flame on low.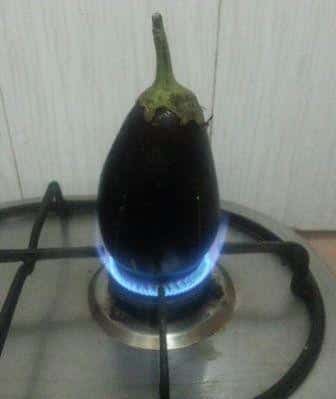 Keep turning the eggplant and make sure all the sides are exposed to flame. This takes about 5 - 6 mins, depending on how big is the brinjal.
Once the brinjal is cook you will notice that the out side will start to look charred and you will get that smoky smell, and way would that the brinjal will almost go in or "cave in"
When the brinjal is roasted well, allow it to cool. Then remove the stem and the outer charred skin. You can either mash it or add it as such.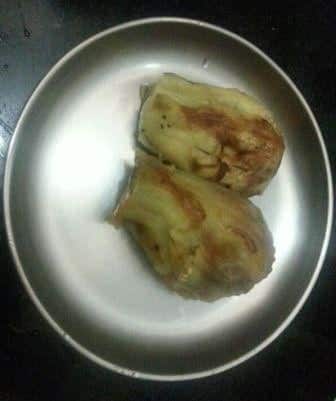 In a non stick pan, add oil and cumin seeds. When they start to splutter, add onions, curry leaves, garlic & coriander powder. Keep stirring till the onions turn colour brown
Then add chopped tomatoes, Add salt, turmeric and cover with lid. Next add the roughly mashed eggplant. Stir well and simmer for 5 - 7 mins so that it cooks well.
Mash everything together and for 5-7 minutes. Sprinkle chopped coriander leaves on top
Serve hot with rotis/chapati/phulkas 
How useful was this post?
Click on a star to rate it!
Rated 4.4 based on 5 votes
Be the first to rate this post.