It's the pearl of middle earth; Mediterranean literally means "middle of the earth". When you think of Mediterranean food, you probably think of pastas, pizzas, hummus and pita bread, and lots of fish. But this isn't the exact picture of what Mediterranean food is all about. Leading one of the most popular diets, Mediterranean food is the healthiest around, and one of the few that not only keeps you healthy but also satisfyingly full!
The Mediterranean diet is hailed for giving you the perfect hair and skin (like the Romans), and a healthier life. It's a very unique and almost exclusive combination of cooked and raw products put together in an order that will leave you craving for more.
What make it even more unique are the countries that together make what is known as the Mediterranean. These are all countries that have coastlines on the Mediterranean sea such as; Albania, Algeria, Bosnia-Herzegovina, Croatia, Cyprus, Egypt, France, Greece, Israel, Italy, Lebanon, Libya, Malta, Morocco, Monaco, Montenegro, Northern Cyprus , Slovenia, Spain, Syria, Turkey, and Tunisia. Just imagine the choir of foods that come together to form what is known as the Mediterranean cuisine.
It's characterised with lots of chicken, fruits, vegetables, and a whole lot of olive oil to top it all! Plus, there's also a recommendation of a glass of wine a day. It even gave us our beloved Shawarma! So, what can you make of the Mediterranean cuisine?
What's So Special about Mediterranean?
Well, for starters (pun intended), a Mediterranean diet is extremely healthy compared to any of the fad diet trends that have taken over the world. A typical Mediterranean diet includes a whole lot of fruits, vegetables, legumes, whole grains, and lots of dry fruits and nuts. Eggs and meat are consumed, but in very little amounts, and only to help accentuate the sauces or pasta. Fish is another very important part of the Mediterranean food. There's practically no butter and salt, as it's replaced with healthy fats such as olive oil, and natural flavours are brought about by adding herbs and spices.
Another traditional aspect of the Mediterranean diet is the sharing of the meal. Eating isn't a solitary activity; it's done in a grand and leisurely manner, and can last up to three hours! This is why red wine is consumed in moderation with food, to keep the social circle fun and engaging.
Here are a few things you probably didn't know about Mediterranean food and some of their most drool-worthy cuisines coming from the countries that make up this massive coast.
Now, if you're eagerly waiting to try out this magical cuisine, and make it a part of your diet, you'll definitely need some help. Start by storing up on legumes and whole wheat, and lots of eggs and olive oil, not to mention fruits and vegetables. This will form more than 75% of your entire portion, and you already are halfway done with your diet.
The quintessential part of EVERY Mediterranean meal is the Pita bread. It's what they have with all of their dips and mixes, and it has a very soft, flavorful aftertaste. Find the recipe for the perfect pita bread here.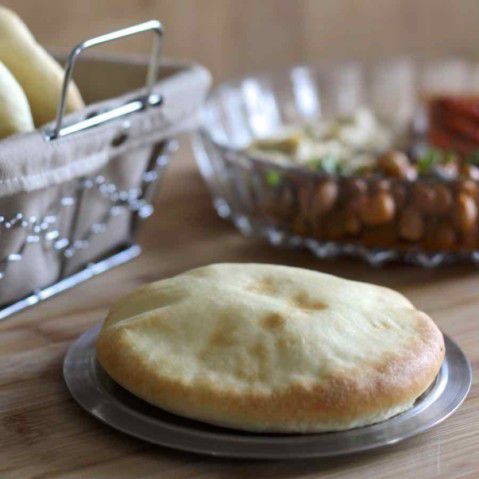 Dips are the second most important component of all Mediterranean foods (after pita). Tzatziki is a traditional Greek dip that tastes best with lamb or chicken, and can even be used as a spread. It's stored for longer durations to enhance its flavour and is often slighlt garlicky in taste. It can be customized into whatever flavour you prefer, using any herb of your choice. Find the recipe here.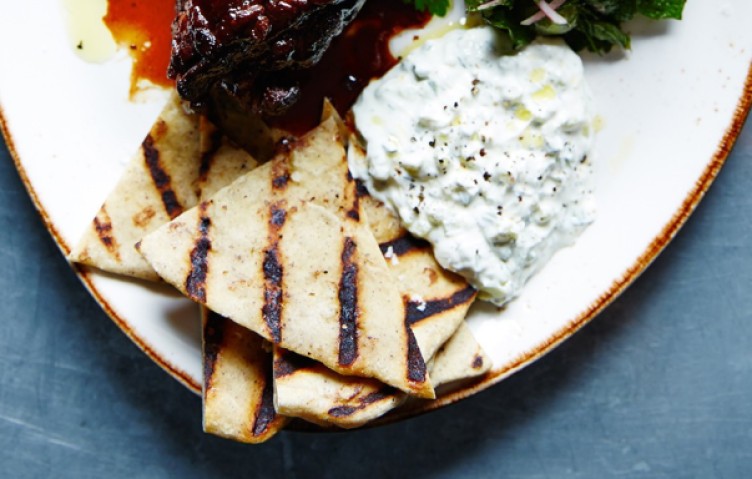 Sea Bass with Cherry Tomatoes
Sea Bass is one of the most commonly consumed fish of the Mediterranean. Cherry tomatoes have a sweet-tangy taste and they're almost always used as flavorings and seasonings on any non-veg meal. The minimal spices used will keep the taste of the broil cherry tomatoes and olives right in the middle. Find the recipe for this classic oven-broiled dish here.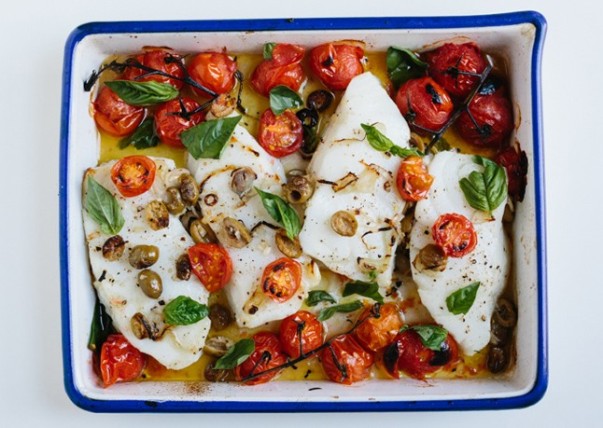 Grilled Halloumi with Watermelon and Basil-Mint Oil
Another classic Greek appetizer is the Halloumi cheese. This is one of the most traditionally consumed cheeses among the Greeks and is made with a mixture of goat and sheep milk. It's semi-hard and unsweetened which makes it very versatile in different cooking styles. Watermelon adds a burst of fruity flavour, while the cherry tomatoes and basil-mint oil keep the flavour and spice original. Find this recipe, which involves an actual grill, here!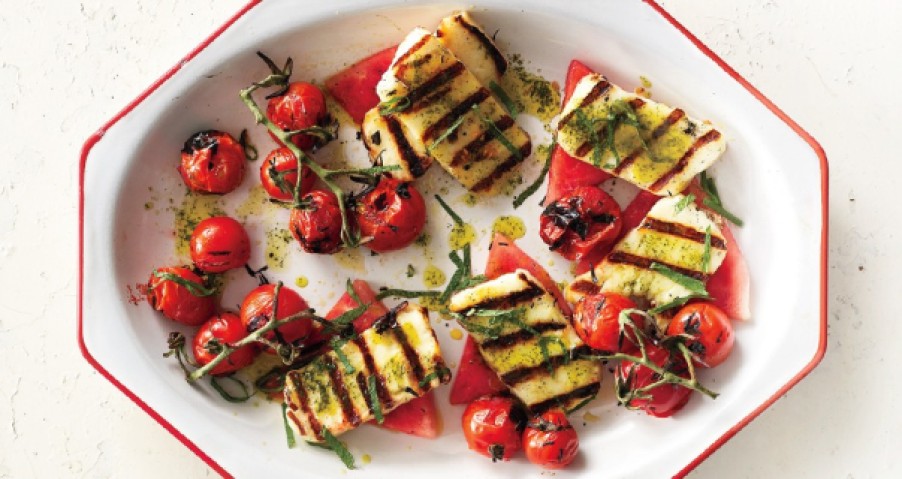 The Greeks just can't seem to have enough of their dips. Feta comes from the Greek word "pheta", and it's the Greeks' most wonderful creation! This cheese comes in a yogurt-like consistency and is almost always used for dipping, be it with added herbs and spices, like this recipe here, or just plain old dip with a bit of pita bread.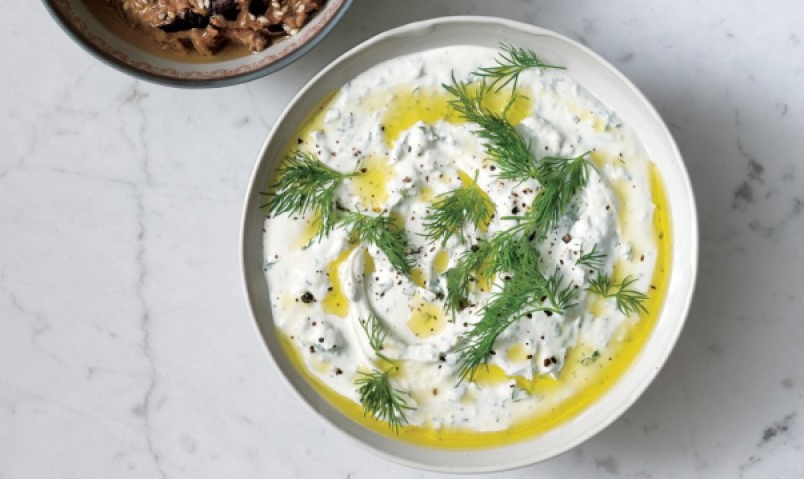 Rosemary and Onion Focaccia
Focaccia is your idea Italian meal that's cooked in a variety of ways all over the coast of Italy. It's however also rumored to have come from Greece, due to its flat-bread look. It's a classic recipe that's remained untainted over time and has continued to please Italians and its niche lovers worldwide! Get the recipe for this uniquely seasoned flatbread here.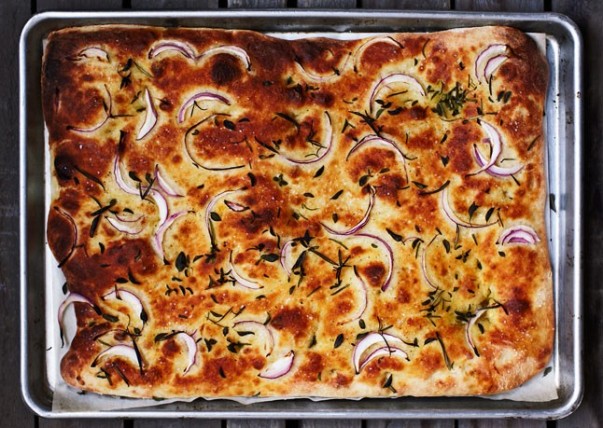 Grilled Lamb Skewers with Carrots, Feta, and Mint
What better way to end it than with a classic? Lamb? Mint? Grilled feta? This can't possibly get any more Mediterranean. The marinate mixt and the serving style are so originally Mediterranean since its drawing from almost all of the contributors of this cuisine. It's also very particular about the kind of meat is required for this recipe; the tender bits around the legs is where the treasure lies. Find the recipe for this filling and delicious entre here!
Don't forget to couple all or any of these with a glass of wine, and you have yourself a healthy and filling diet.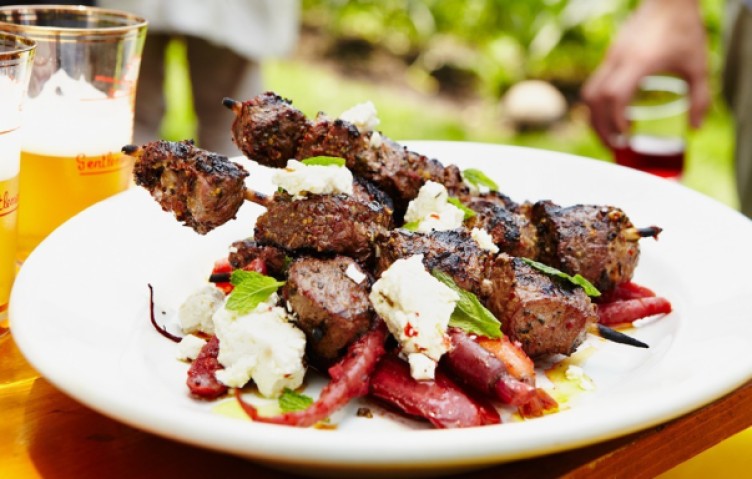 here's the recipe for Hummus, a classic in EVERY Mediterranean meal. Pair it with pita bread and you have a filling snack that's every bit healthy! Also, don't forget to drizzle it with lots of olive oil!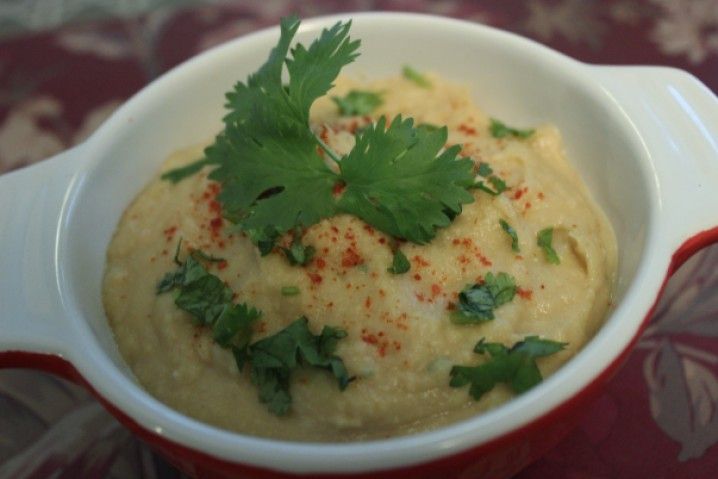 Another Mediterranean classic is Falafel. It's a patty that's made using chickpeas, much like hummus. Here's a vegan version of Falafel, made using kidney beans, which are equally healthy!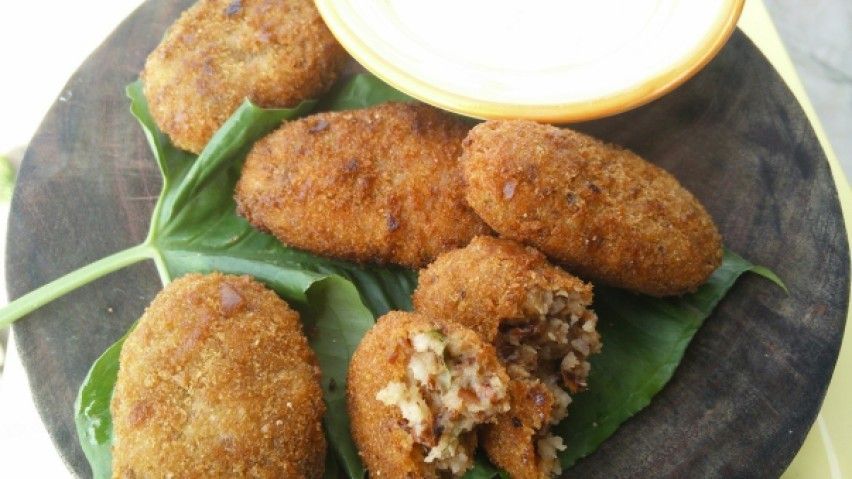 If you're looking for something with vegetables in it, then Fattous Salad is for you! It's a very popular salad consumed ALL OVER the middle-east (even more than Caesar salad). Here's the recipe for Fattous and Zatar Salad.
Spiced Chicken with Muscato grapes
Poultry is commonplace in the Mediterranean cuisine, so you won't have any problems including chicken in almost anything! Here's a great recipe to get your taste buds tingling to the Mediterranean palate; spiced chicken with muscato grapes.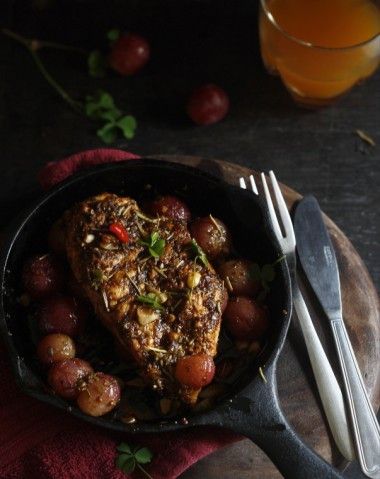 You can see the pattern in the ingredients used in these and many other recipes. They're all healthy fats, fresh, and give you energy. However, if you get on the Mediterranean diet to lose weight, it isn't the right approach. People living in the Mediterranean area aren't worried about their weight so much because there's a lot of physical exercise such as manual labour. The Mediterranean diet coupled with good exercise will keep you healthy, if not necessarily thin.
Keeping this in mind, get on to the Mediterranean diet and change the way you think and feel about food and what it can do for you!