Black Rice – A superfood which has been cultivated in few parts of India from a very long time became forbidden because of its health benefits and high nutritional values. This is called "Irony and Diplomacy". Irony because if this superfood has been consumed by masses, Antioxidant like anthocyanins which is present at the outside hull of the grain, dietary fibers and minerals like copper and iron would have given health to a lot of people. Diplomacy because after knowing the benefits of black rice, Ancient Chinese Emperor reserved its consumption and production to themselves and did not allow it to reach the masses.
Finally, the forbidden rice is back. The world knows the secret but at a price as cultivation is restricted to small areas distributed thought-out Asia. India – the land of agriculture has fortunately grown this purple rice in Manipur region. Also known as 'Chak Hao' in local dialect 'chak hao tann' and 'chak hao amubi' are a must have dishes during the festivals in Manipur. It's priced approx Rs 300 per kg but it's highly recommended to include in your diet to harness its benefits. (Read the benefits)
Once you know the health advantages of Black Rice, You will check for "Where can I Buy Black Rice – so here you go". As soon as forbidden black rice is at your home you will definitely search for "How to Cook Black rice" So don't worry – Our Home Cook and Author of Oriyarasoi – Sweta Biswal has shared amazing recipes of black rice from the main course till the dessert. 
"While the rich nutty flavor works well with desserts, it makes salads or risottos amazingly exotic and tasty. As it can turn out to be a bit too earthy when eaten on its own, the flavor of black rice needs careful balancing with the ingredients. Coconut and brown sugar are the ingredients that go beautifully well with this rice variety. But a word of caution, though. The color can stain your dress so make sure to cover up while cooking a batch!" says Sweta Biswal who has been experimenting with this forbidden rice for quite some time.
Here are easy, healthy and quick Black Rice recipes which you can make and enjoy at your home.
Black Rice Sun-Dried-Tomatoes Salad – Salads make life easy and healthy. The earthy flavor of Spinach gets into the black rice along with caramelized Pumpkin and sundried tomatoes to add a zesty sourness. The exotic dish will stop your craving for calorie-filled junks. Click for the recipe – Black Rice Sun-Dried-Tomatoes Salad
Black Rice Pumpkin Soup – When an old recipe goes exotic, then Black Rice Pumpkin soup is born. The traditional recipe of Orissa – Ambila gets a makeover when black rice replaces the normal rice. The sourness of dried mangoes gives the tangy taste to fill your tummies with something really healthy and delicious. Click for the recipe – Black Rice Pumpkin Soup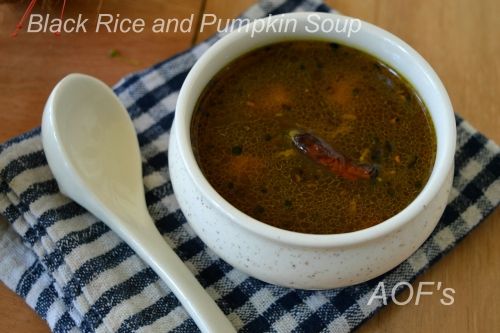 Black Rice Risotto(Vegan) – Risotto demands cheese but to make it Vegan, add almond milk and you get a nutty, rich, healthy and creamy exotic Risotto for your lunch or Dinner. Garnish with few parsley leaves and you are on the way to enjoy one of the most relishing dishes. Click for the recipe – Black Rice Risotto-Vegan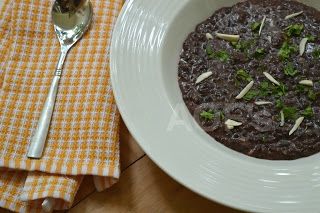 Chinese Fried Black Rice – Black Rice gets a call from all the cuisines, We have shared Indian Soup and Italian Risotto then how come we miss Chinese !!, Here is the famous Chinese Fried rice but this time with Black turning purple to give you a heavenly taste. Click for the recipe – Chinese Fried Black Rice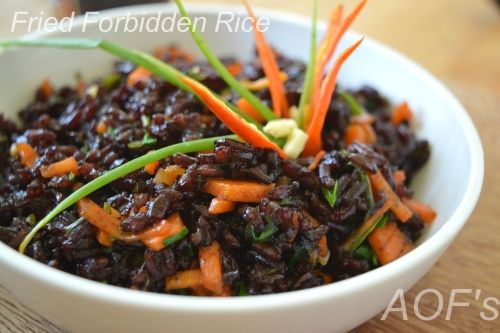 Black Rice Sushi – Can Sushi be Vegan? Yes, of course. Japanese Sushi goes gaga when black rice is used. Add Tofu, Avocado and carrot to make a wholesome lunch box meal. Click for the recipe – Black Rice Sushi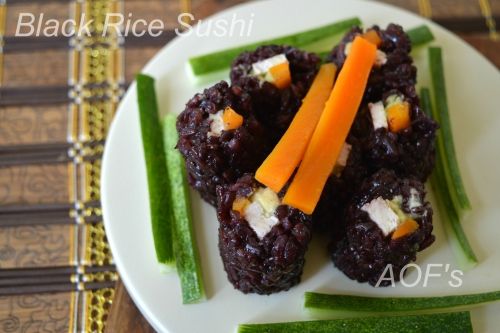 Black Rice Truffles –  This one is for your sweet tooth as no platter is complete without a dessert but a healthy one. Low in calories, the truffles are made with black rice which is enjoyed with vegan coconut custard. It's unique and different. Click for the recipe – Black Rice Truffles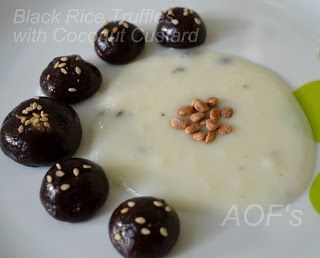 Black Rice Pancake – Black Rice is also called as Chak Hao and is a must have during all the festivals in Manipur. If you want to make the simplest of all the recipes and don't want hassles yet are looking for the benefits of black rice, Add it to your Atta (Wheat Flour) along with jaggary and fennel seeds to get a healthy breakfast. Click for the recipe – Black Rice Pancake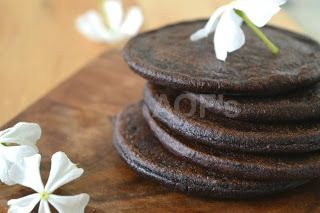 Black Rice Indian Dessert – Modak is the traditional dish loved across India and a must have in the preparation list during Ganesh Chaturthi. So why not give the traditional Modak, a bit of twist and make it using black rice this time, Who knows even Ganesha would enjoy the new taste. Click for the recipe – Black Rice Indian Dessert
Black Rice Pudding –  Rice Pudding is one of easy and quick dessert recipe which can be made when your guests are just ready to ring the doorbell but this time surprise them with the Black pudding loaded with fruits, A Sweet delight which they would definitely love. Click for the recipe – Black Rice Pudding.
Buy Black Rice in India, Buy Black Rice in USA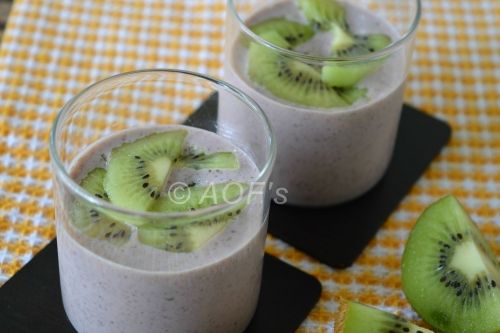 So here is the complete Platter made from exotic and nutty Black Rice. Team Plattershare congratulates and thanks, Sweta Biswal for creating these wonderful dishes exclusively for Plattershare.
Sweta Biswal started her career as IT engineer but found her true passion in cooking and blogging and so she authored  OriyaRasoi – The Cosmopolitan Odia's Kitchen.  Which boasts of having more than 400 Odia recipes and is one of the most popular blogs in Oriya Cuisine. While working with IT firm Infosys she felt that her homeland is known as the land of Temples and Oriya people are known to be hardworking, dedicated and are appreciated by the world but not much is known about its cuisine and culture. Her Blog is an attempt to solve that mystery and let people know about Oriya food at international level and she feels that she has made that mark to a certain extent but she believes in "Miles to go" and is working to conquer all those milestones. Stay in touch with her on Plattershare, Facebook, and her Blog OriyaRasoi – The Cosmopolitan Odia's Kitchen
If you have something exclusive and unique to share and would like to get featured on Plattershare next Food story. Drop us a mail at [email protected] or message us on Plattershare Facebook Page.