We all know that Almonds are loaded with nutritional values. You find this nut everywhere. This Nut contains all nutrients such as Protein, Vitamin, Fiber, Omega 3 & 6 fatty acids, potassium, zinc, magnesium, calcium and so on.
Everyone suggests that eating almonds every day improves our health and beauty. But we should know how many almonds needs to consume and how it can be consumed.
According to Almonds.com, You can eat one ounce, which is 23 almonds on a daily basis.
According to United States Department of Agriculture(USDA), In 1 Ounce almonds, the nutritional facts are,
Calories – 164
Fat – 14.36 g (73%)
Carbs – 5.6 g (14%)
Protein – 6.03 g (13%)
What's the difference between eating Raw almonds and Soaked almonds,
Raw almonds are generally very hard to consume. It would make the digestion very difficult. The brown skin of almonds contains tannin which inhibits nutrient absorption. Our body cannot breakdown this enzyme-inhibiting compound. Soaked almonds are more healthy. In order to absorb all those nutrients, the almonds you eat, should be soaked in water overnight. Once you soak almonds the peel comes off easily and allows the nut to release all nutrients easily.
How to soak the almonds,
Take some 20 almonds in a cup of water, cover and allow them to soak for 8 hours or overnight.
Next day, the size of the almonds would have been increased, drain the water, peel off the skin.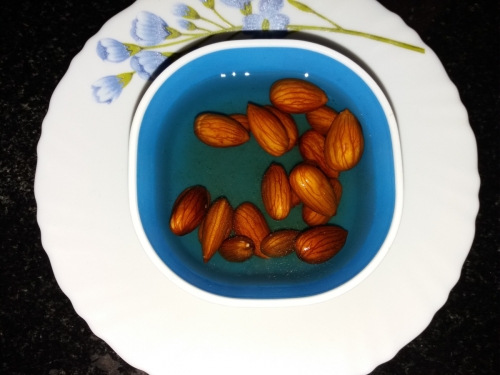 Almonds should not be consumed on an empty stomach. Add with vegetables, fruits and with other nuts. Instead, taking 20 almonds at one time, it's good to consume morning 10 and evening 10.
Health Benefits of soaked almonds,
It reduces the bad cholesterol and increases the good cholesterol level.
Vitamin E present in soaked almonds, it helps to prevent aging and its antioxidant prevents inflammation.
Vitamin B17 present in soaked almonds, it prevents cancer.
It also maintains the glucose level and regulates the blood pressure.
Soaking almonds help in digestion, The monounsaturated fats in almonds keep you full and it helps with weight-loss.
Soaked almonds contain folic acid, which prevents birth defects.
It boosts your energy and improve the brain function.
It's a good source of calcium and its strengthens bones and teeth.
Vitamin E, it reduces the skin damage and it increases the glow.
It strengthens and nourishes hair, It reduces hair fall, dandruff and promotes hair growth.
Eat healthy and Stay healthy 🙂