The restaurant in your hotel is one of your business' most important departments. A good restaurant can provide your hotel with more popularity and boost your overall sales. Since this is a facility all guests visit (at least during breakfast times) it can further support your guests' satisfaction if you organize your restaurant correctly and focus on providing people with practical breakfast, quick lunch and luxurious dining experiences. However, even after all those benefits of having a good hotel restaurant, many hoteliers still make crucial mistakes when building their restaurant, filling it with staff and creating the menu. Keep these tips in mind and you'll surely create a restaurant that will leave your guests impressed.
Provide seamless service
If you want to provide excellent service to the guests of your hotel restaurant, you need to start hiring (and training) experienced cooks and servers. But, that's not all. Good support staff is also very important since chaos at the bar or in the kitchen often translates to chaos in the dining area that will definitely not impress your guests. So, make sure to staff your restaurant well, especially during the busy season—it will make a huge difference. Also, having eyes and ears in the form of a front manager will allow you to locate and fix many issues quickly and efficiently.
Stand out from the competition
Let's say you have a hotel with a restaurant in Rome. What your guests will want to eat are pasta and pizza, but that's something every restaurant in your area is serving. So, make sure to study your competition and upgrade your guests' experience by creating a unique menu with special pasta and pizza that will trigger their interest and make them want to stay in your hotel and try your one-of-a-kind menu.
Be detail-oriented
When you're in the peak season, every little detail will make a difference in your hotel's restaurant, so make sure to be very thorough. Maybe you want to hand out menus to guests waiting to get seated in order to turn tables faster. Or maybe you want to move promo menus and drinks off-peak times in order to manage rush hour better. Or maybe you want to improve the way you manage your business with a modern cloud-based property management system and avoid costly errors. The last one will have an especially big impact on your time management, deliver a higher level of service and allow you to have better customer retention. If you don't know where to start, ask your staff about what they think is causing the issue—they often have amazing insight and creative solutions.
Provide free Wi-Fi
If you want to attract travelers and tourists and not just locals, make sure to provide free Wi-Fi at your place. According to TripAdvisor, almost 75% of travelers seek out places with internet access and are willing to pay a bigger price for their meal just to enjoy this commodity.
Also, make sure to create a customized landing page that will automatically take your guests to your offers and deals when they connect to the internet at your restaurant. You might not think this is especially important, but it will make your hotel more memorable. Push all deals and offers you have at your service and even offer an opportunity for your guests to leave a quick Yelp review.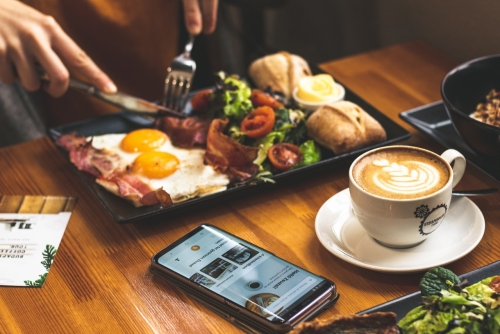 Make payment easy
Cash was once king, but today, more and more people choose to use plastics. If you really want to make your payments easy and effortless for your guests, invest in a good POS system that accepts various payment types from debit and credit cards to smartphone wallets. Mobile payments are experiencing a big surge in popularity right now and experts think this payment method will only continue to rise. According to some studies, the global revenue generated by mobile payment will reach $50 billion by 2021 (which is a $46 billion boost from 2016). So, what's evident is that people prefer to make their business transactions cashless and now even cardless. Over 80% of businesses that invest in debit, credit and smartphone payment systems improve their sales, so keep that in mind.
Manage expectations
One of the worst things you can do for your restaurant and hotel is to overpromise and underdeliver. No matter what it is, overbooking or keeping customers waiting beyond their quoted time, you are setting yourself up for failure. Also, make sure your customers are properly informed of any changes to your menu, happy hours, special drinks and social media changes. If your customers know about your current issues before they arrive, you won't need to deal with too many complaints.
If you follow these pro tips that will allow you to create a one-of-a-kind customer experience for your guests, your hotel restaurant will definitely profit. Your guests will leave with excellent memories and return every time they are near your location.