Sweet & Spicy Chicken Wings
Recipe Taste
Not Specified
Yield / Serves
3 Servings
Perfect combo of taste of hotness & sweetness together…….
500GM CHICKEN WINGS (10-12 PIECES)
1 BUNCH GARLIC LEAVES CHOPPED
1 BUNCH CORIANDER LEAVES CHOPPED
2TBSP CHILLI GARLIC PASTE
10-12 GARLIC CLOVES CHOPPED
1TBSP GINGER GARLIC PASTE
PINCH OF ROASTED SESAME SEED FOR GARNISHING
MARINATE THE CHICKEN WITH GINGER GARLIC PASTE,CUMIN POWDER,CORIANDER POWDER,CHILLI POWDER,SALT,HUNG CURD,SOYA SAUCE,LIME JUICE.KEEP IT ASIDE FOR 1HR.
MAKE A BATTER WITH EGG & CORNFLOUR.DIP THE WINGS INTO BATTER & DEEP FRY IN HOT OIL IN A PAN.
NOW FOR SWEET & SPICY SAUCE,TAKE A WOK.POUR 2TBSP OIL.ADD CHOPPED GARLIC,SAUTE WELL.NOW ADD CHOPPED CORIANDER & GARLIC LEAVES.TOSS WELL.
NOW ADD SOYA SAUCE & CHILLI GARLIC PASTE.COOK WELL.NOW ADD SWEET CHILLI SAUCE & BROWN SUGAR.MIX WELL.NOW ADD A LITTLE WATER.
ADD THE FRIED CHICKEN WINGS.TOSS WELL.COAT THE SAUCE NICELY.
SPRINKLE ROASTED SESAME SEED & SERVE HOT.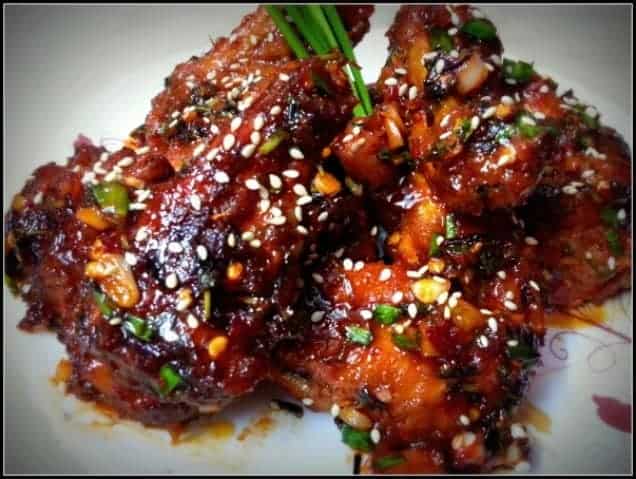 How useful was this post?
Click on a star to rate it!
Rated 4 based on 3 votes
Be the first to rate this post.