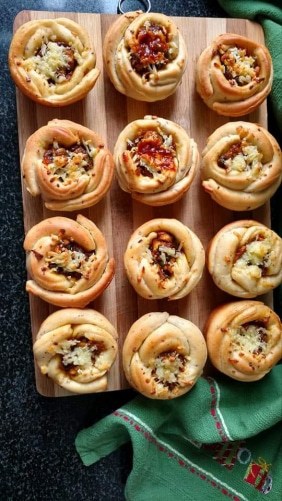 Rose Pizza Muffins
Rose Pizza muffins are ideal way to present your favourite pizza in an attractive manner. Rose Pizza muffins are easy to design and will be a great dish for any party table.
Ingredients
All-Purpose flour 300 gm

Instant Yeast 5 gm -1 tsp

Sugar 1 tbs

Fresh Curd 5 tbs

Butter / Oil 2 tbs

Salt 1 tsp

Water 180 ml

Filling

Pizza sauce as required

Mozerella cheese- 1 cup

Capsicum square chopped 1/2cup

Onion square chopped 1/2 cup

Sausages chopped 1/2 cup

Sweet corn 1/2 cup

Oregano 1tbsp

Chilli flakes 1tbsp
Instructions
Take a dry bowl. Add yeast, sugar, and lukewarm water and stir it well. Cover it and keep aside for 15 min or until yeast froths

Take another mixing bowl. Add all purpose flour, salt, curd and activated yeast solution. Mix it well. Initially the dough will be sticky.

Take out the dough on floured surface and knead it for about 10-12 min. Add oil to the dough. The dough will become very soft, elastic and non-sticky

Place the dough into a greased pan and cover it with a Cling wrap. Now keep this pan at some warm place until dough doubles in volume.

Once dough doubles in volume, punch it and knead for another 5 minutes. Roll out the dough to 1/2 inch thickness and cut out circles of 4" diameter.

Brush a bit of butter on the circle of dough. Make 4 diagonal slits, leaving the center intact. Now we have four sections around the centre.

Apply the pizza sauce and place the filling in the centre, topped with cheese and oregano and chilli flakes.

Take one of the sections and cover the side of the filling with it.

Take the opposite side's section and cover the other side of the filling with it.Repeat with the two last sections, to close the rose.Pinch the dough on the side to seal it.

Repeat until all rose-rolls are ready.Place the prepared rolls on a greased tray/ muffin moulds for better shape and let rest 15 min.

Pre-heat your oven to 180 C. Brush each rose gently with egg yolk mixed with a tsp. of milk. Optional to Sprinkle with Seseme seeds.

Bake for about 15-20 minutes or until tops are golden and rolls are ready.Remove and brush them with melted butter. Keep them covered until time of serving so they stay soft.
Notes
Ensure usage of best quality yeast. The proofing and kneading time should be followed properly. Donot add too much of extra flour.