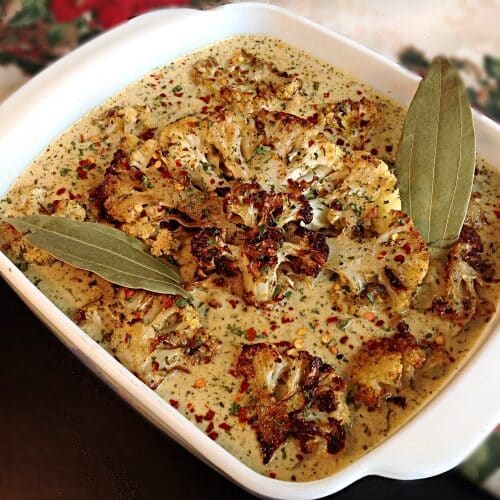 Roasted Cauliflower In White Gravy
30 March, 2017
Cauliflower is one vegetable that can be used in fusion style cooking. Usually, I prepare cauliflower in Indian way. This time I tried to merge with a concept of baking cauliflower with ingredients used in Italian cuisine and our own Indian style white gravy. This rich creamy fusion recipe was a hit in my house. It's an excellent party dish where vegetarian dish is concerned. All in all, I'm positive that you will love this fusion recipe. Do try it!
Ingredients
For Marinade 1 head cauliflower

4

tbsp

olive oil

1

tsp

onion powder

1

tsp

garlic powder

1

tsp

red chili flakes

1

tsp

dried parsley

1/2

tsp

dried oregano

Salt and pepper to taste

For Gravy 1 onion sliced

3

green chilies chopped/sliced

4-5

Clove

garlic sliced

1/2

ginger julienned

1

tsp

red chili flakes

2

tbsp

almond powder

1/2

tsp

fennel powder

1

tsp

coriander powder

1/2

tsp

cumin powder

4

tbsp

thick yogurt

1/2

cup

milk

1/2

cup

water

1/3

cup

full cream

1

tsp

kasoori methi powder

Salt and pepper to taste

2

tbsp

olive oil

Tempering— 1 bayleaf

1/2

tsp

kalonji

onion seeds

1/2

tsp

cumin seeds

For Garnish-- pinch of Red chili flakes and dried parsley
Instructions
For Cauliflower Roast: Preheat oven to 400 Deg F (200 Deg C). Wash cauliflower thoroughly in salted water. Drain water thoroughly and pat dry cauliflower with kitchen napkins. Cut cauliflower in thick slices (steaks).

Marinate cauliflower steaks with the ingredients mentioned under marinade for 15 minutes at least.

Line baking tray with ovenproof parchment paper. Arrange cauliflower steaks on the tray including any loose florets. Bake in oven for 20-25 minutes flipping the cauliflower midway through baking time. Remove tray from oven and keep cauliflower aside.

For Gravy: Heat oil in nonstick pan. Add onions and green chilies and sauté till onions are translucent.

Add ginger and garlic slices and cook till they soften and raw smell evaporates. Switch off gas and cool the mixture thoroughly.

Blend onions with yogurt, milk, and all the remaining spices till smooth purée is formed.

Heat pan again and add little oil. Add the tempering to hot oil and let it splutter.

Add the purée and stir constantly to prevent sticking to the pan. Add water, red chili flakes, kasoori methi powder, and almond powder. Bring it to a simmer.

Add salt and pepper taste along with cream. Simmer for couple of minutes. Ladle gravy in serving dish. Arrange cauliflower over the gravy. Garnish with red chili flakes and dried parsley. Serve hot with roti/rice.
Notes
Replace almond powder with cashew powder if unavailable.
While the cauliflower is marinating and roasting, prepare gravy.
Cauliflower may be cut in florets and roasted alternatively.