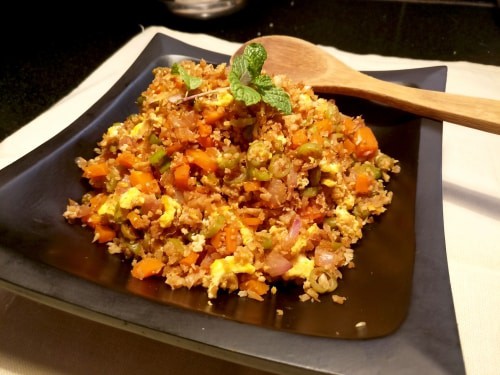 Paleo Cauliflower Fried Rice
26 March, 2017
Paleo Cauliflower fried rice, a simple and tasty rice. I was discussing Paleo diet with one of my friend who is currently following the same diet and she told me about this rice along with the benefits of the Paleo Diet. What I could understand is that it's a diet which concentrates on proteins to improve the metabolism and weight-loss. Well, I am not going into the Paleo dieting because it's a discussion which needs experts. What really interested me was this Fried rice which is made from Cauliflower. And so I researched the recipe and fell in love with paleo cauliflower fried rice instantly because this can be part of our weekly menu as its healthy. You really don't have to follow any diet to enjoy the best recipes.
Ingredients
Cauliflower 100 grams

Red Onion 1/4 Cup

Brown Egg 1

Peas 1/4 Cup

Carrot 1/4 Cup

Bell Pepper 1/4 Cup

Red, Yellow and Green

Olive Oil 2 tablespoon

Salt as per taste

Coconut aminos 2 table Spoon

Few Mint leaves to garnish
Instructions
Cut Cauliflower into small florets and make sure that there are no insects (These creepy fellows are the reason, I never want to eat gobi Manchurian in any restaurants)

Wash cauliflower thoroughly and put it in the hand-blender to grate it.

Chop Onion, Bell pepper, and carrots into small dices. I prefer fresh peas but you can have frozen one and thaw them.

Put Olive oil and saute onion for 3 -4 minutes so that they become translucent. Add all the veggies except cauliflower and saute for sometime.

Add Coconut aminos this is basically the substitute for Soy sauce which is used in normal fried rice. This is a must in Paleo diet.