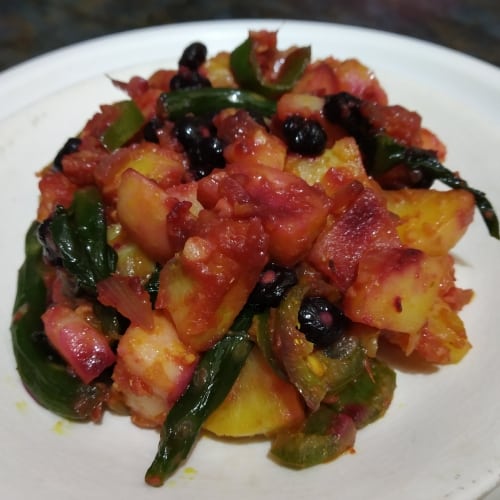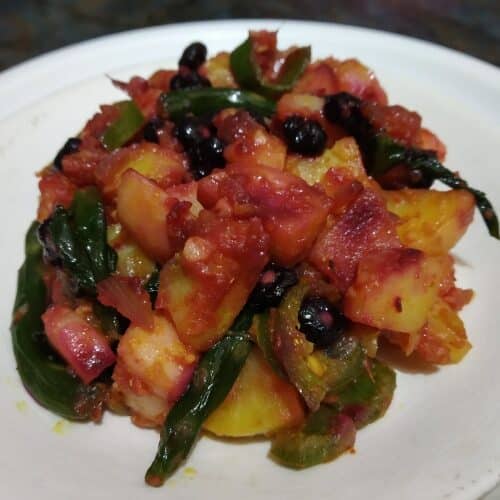 Malabar Spinach
Malabar spinach has different names in different States and different countries. In West Bengal it is named as pui sag. There are two varieties green and red. Stem of the Basela Alba is green and red. Stem of cultiva basella Alba rubra is redish-purple, the leaves in both plants are green. The stem when crushed usually emits strong scent. It is a creeper plant. When seeds become matured it looks dark red. This is a lost recipe and I cooked In a traditional way.
Ingredients
250

gm

Malabar spinach

2

medium sized potatoes

1/2

tsp

whole five spices

punch phoran

1

tsp

roasted five spices powder

1

tsp

ginger paste

1

tsp

garlic paste

2

tsp

onion paste

1

tsp

red chill paste

2 -3

green chilli

1

tsp

turmeric powder

2

tbsp

mustard oil

Whole red chilly

1

tbsp

chopped tomatoes

Salt to taste
Instructions
Cut the soft stems and wash. Cut the potatoes in cubicle shape.

Take a cauldron add oil. After heating oil add the potato pieces along with turmeric powder and salt. Close the lid after five minutes take out the fried potatoes and keep separate.

In the same oil add whole punch phoran and whole red chilly. Then add onion paste, ginger garlic paste, chilly powder, turmeric powder, green chilly, chopped tomatoes. Stir until brown.
Notes
Colour is the attraction of the recipe. When we mix the steam rice with the seeds of pui sag it becomes red. We should introduce this recipe to our kids,