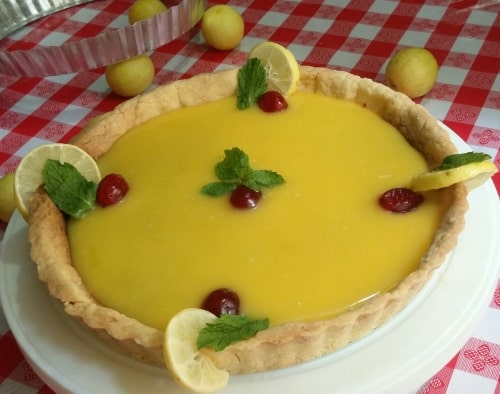 Lemon Tart
28 February, 2018
Lemon Tart is one dish that no matter how much the stomach might be full, you jud can't stop yourself from having a bite. The relishing flavors, the appealing texture and the amazing aroma absolutely is just mouth watering. Lemon Tart is one dessert all should try without fail.
Ingredients
For Tart Crust. All purpose flour 250 grams

Sugar powder 75 grams

Butter

cold 125 grams

Ice cold water

optional

For Lemon curd. Lemon 4

juice

Unsalted butter 200grams

Sugar 100grams

Eggs 2

Glazed cherries

for garnishing

Lemon rind

for garnishing

Mint leaves

for garnishing
Instructions
For making Tart Crust, chop butter into cubes. Mix flour and sugar and slowly rubthe butter into the dry mixture. Mix it in the fold and press technique. Add little water (cold) if necessary. Round the dough and fold it tight in a cling film.

Refrigerate the dough for an hour. Take out from the fridge and bring it to room temperature before using it. Roll the dough ir pressit in the Tart tin. Bake it for 20 minutes at 180 degree centigrade. Bring them outand cool them on a rack.

For making Lemon curd, add lemon zestand lemon juice, sugar and butter into a heatproof bowl. Sit the bowl over a pan of gently simmering water,making surethe water is not touching the bottom of the bowl.

Stir the mixture every now and again until all the butter has melted. Lightly whisk the eggs and stir them into the lemon mixture. Whisk until all the ingredients are well combined, then cook for 10 to 20 minutes.

Stirring every now and then, until the mixture is creamyand thick enough to coat the back of a spoon. Lemon curd is ready to fill the Tart shell.