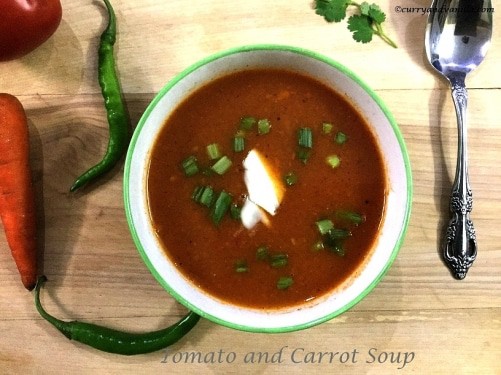 Healthy Tomato And Carrot Soup
Ingredients
3

large tomatoes

1

medium sized carrot

1

medium onion

½ inch piece ginger

3

cloves

1

green chilli/jalapeno

1

Maggi vegetable seasoning cube

optional

¼ teaspoon red chilli powder

¼ teaspoon black pepper powder

2

tbsp

butter/oil

½ teaspoon sugar

Salt to taste
Instructions
Wash the vegetables and cut the onions into big chunks and tomatoes into 2. Peel the carrot and roughly chop into big pieces. Slit the green chili.

In a pressure pan, heat 1 tablespoon butter/ghee/oil. Add the cloves and ginger and sauté for a few seconds. Tip in the vegetables (onion, tomatoes and carrots) and sauté for about 1 to 2 minutes on medium high heat just enough to sear them.

Pour about 1 to 2 cups of water and close the pressure pan. Heat on high, and after one whistle, turn the heat off. Once the pressure is released completely, open the pan and let cool slightly.

Remove the skin from the tomatoes, try and remove the cloves and ginger piece along with the green chili. Drain the vegetables, place them in a blender jar and make a fine puree.

Place in a saucepan, add water according to how thick or thin you want the soup to be. Add the water in which the vegetables were cooked too. Add salt, sugar, the seasoning cube and stir.

Bring to a boil. Once it comes to a boil, reduce the heat and simmer for about 5 minutes.

In a small saucepan, heat 1 tablespoon of butter/ghee/oil and once it is hot, add the chili powder and pepper powder, turn the heat off and add this seasoning into the soup.

. Mix well and serve hot garnished with chopped green onions or coriander leaves/cilantro and a blob of butter (optional). Serve hot with buttered toasted bread.
Notes
You can avoid the carrot and make it just a tomato-onion soup.
If you do not have seasoning cube, you can omit it; it will taste just as good!!
Addition of garlic along with the ginger will give it another flavor; sometimes I use only garlic instead of ginger or sometimes use both.