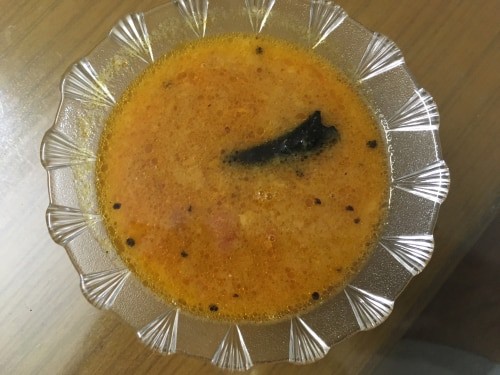 Gujarati Dal
This is a traditional tuvar dal recipe made in Gujarati households. It is a spicy sweet dal which is due to the jaggery added in it. Nobody makes this dal as tasty as my mom. Though I try multiple times, I have yet to reach the homely taste that she achieves. Gujarati dal is light on the stomach and tastes one notch superior when had with tomato onion salad and rice.
Ingredients
Tuvar dal - 1 cup

Tomato - 1cut into medium sized pieces

Whole red chillies - 2

Green chillies - 1

Mustard seeds - 1 tsp

Fenugreek seeds

methi - 1/2 tsp

Asafoetida - 1/2 tsp

Roasted groundnuts - 1 tbsp

Turmeric powder - 1/2 tsp

Red chilli powder - 1 tsp

Salt to taste

Jaggery - the size of a lemon

Oil - 4 tsp

Coriander powder - 1 tsp

Cumin powder - 1 tsp

Gujarati garam masala - 1 tsp
Instructions
Soak the tuvar dal in water for 20 minutes and then pressure cook it till fully cooked and soft. Keep aside.

Add the oil in a deep pan and let it heat up. Now add the mustard seeds , methi seeds, asafoetida and red chillies. Let it splutter and release the aroma.

Now add the cooked dal and mix well.

Add turmeric powder, red chilli powder, coriander powder, cumin powder, salt and garam masala.

Add the tomato and green chillies. Mix well and let it come to a boil.

Now let it simmer on low heat for about 15 minutes.

Then add the jaggery and mix well. Let it again simmer for 15 minutes.

Add coriander leaves for garnish and serve hot with plain rice and a raw tomato onion salad.