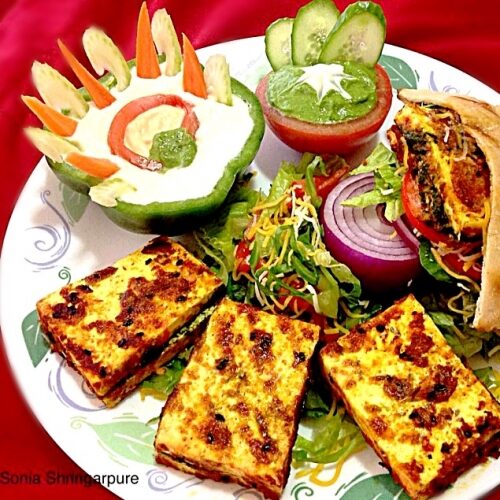 Grilled Minty Paneer
3 February, 2017
A hearty healthy paneer or Indian cottage cheese snack ready in minutes and providing the essential proteins for budding athletes or growing up youngsters. Paneer or Indian cottage cheese marinated with mint is just another wonderful combination that is most often overlooked but mint flavor is actually the backbone of this recipe.
Ingredients
Paneer 14 oz

Marinade 1 ---

1/2

bunch of mint

2

handfuls of spinach

2

green chilies

1

tsp

garlic paste/minced garlic

1/2

bunch fresh coriander

1

tbsp

Greek yoghurt or thick curd

Marinade 2---

2

tbsp

Greek yoghurt

1

tsp

turmeric powder

1

tbsp

red chili powder

1

tbsp

heaped ginger-garlic paste

1/2

tbsp

garam masala

1

tbsp

black sesame seeds

1/2

tsp

ajwain

carom seeds

Salt to taste

Pita bread

Sliced onion

tomato, cucumber, lettuce as garnish/accompaniment

Lemon juice as per taste

Dash of chaat masala
Instructions
Wash, drain and dry the vegetables and herbs.

Blend in mixie all marinade 1 ingredients to a fine paste.

Cut paneer in 2 x 2 in squares and about 1/2" thick and slit them horizontally 3/4 way (not through and through).

Place a teaspoonful of the mint chutney filling in the slit of each slice of paneer, spreading evenly.

Apply marinade 2 all over each slice of paneer. Skewer and grill in a tandoor until lightly browned on the edges.

If you cannot access a tandoor, use skewers under a hot grill. Serve hot with a sprinkling of lemon juice and chaat masala.

Warm the pita bread on tawa or microwave. Stuff it with onion slices, tomato slices, cucumber slices, shredded lettuce and apply mint mayonnaise (marinade 1 mixed in plain mayonnaise). Drizzle grated Cheese.
Notes
Usually store bought paneer is often hard so Always keep paneer or Indian cottage cheese immersed in warm water or milk to maintain its softness.