Wondering What things to do during the weekend, want to experience a relaxed afternoon while you enjoy a Fire-Wood oven baked thin crust farmhouse pizza and refreshing Margarita and Mojito, then check out Gorilla Barfare, centrally located in Koramangala 6th Block. 
Plattershare, platform to connect foodies and food passionate with delicious and yummy food of course, in association with Gorilla Barfare, organized a wonderful relaxed evening party of "Cocktails and Pizza".
Why we say wonderful because there were fun and meeting but Plattershare always believes in experiential learning and so there was lots of learning too.
With all the eminent, Food Bloggers of the Bangalore city, joining in, It was surely a place to be on 25th March 2018 where "Cocktail and Pizza party" was being enjoyed.
Ambiance: Something which you will notice as soon as you enter the place, With the entrance as inviting as it could be, the place has upbeat and lively ambiance with outdoor and indoor sitting, hence gives you a choice to enjoy your hot summer afternoons and dusky evenings at the same place. The Wooden furniture and the dim lights would immediately relax you from the scorching hot sun outside. Even though there is an outdoor seating but the place is beautifully done with lots of hanging planters making it a rustic, earthy and cool place to sip your cocktails and mocktails.
Once you are relaxed and while you appreciate the ambiance, the Fire-wood pizza oven and the aroma of freshly melted cheese will mesmerize you and grab your attention and you will surely place an order for the "thin crust chicken supreme" or the classic Pizza Margherita.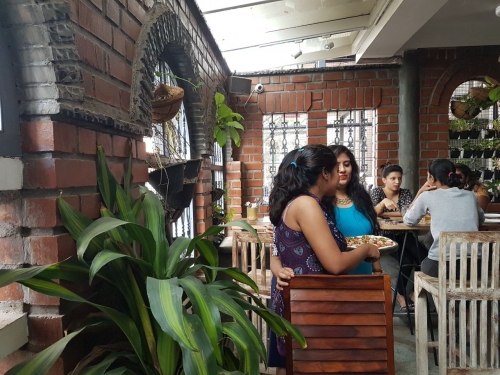 Food and Drinks: From quick bites like cheesy nachos, steamed chicken momos, chili pork, and chili beef, there is a lot to munch, while you sip your Long Island Ice Tea or Margarita. Once you relish the starters, be ready to be blown away by the aroma of freshly prepared thin crust farm fresh pizza. 
And this is not all, if you are burger lover, this is the place to be as you can build your own burger (BYOB) with choice of bread, patty and Indian sauces. Have you heard about Chettinad burger, Yes, they have it to excite your Indian tastebuds!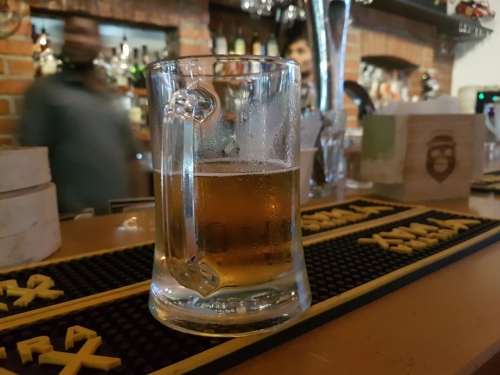 Plattershare invited all the eminent food bloggers of the city for the "Cocktail and Pizza Party" which was not just another party as it has a lot hidden excitement during the event.
While all the guests entered and enjoyed the ambiance their cameras got excited and selfie sessions started with the food. 
The event started with Co-founder of Plattershare, Kirti Yadav sharing what's in the evening for all the guests. Rajeev and Khusbhoo, the lovely couple and our host of the day, explained what is the specialty of Gorilla Barfare. As soon as the mood was set, Star of the event Saswati Behera shared the story about Margarita and how it was invented.
And this is what we call as " The Plattershare specialty" – Every event which is organized by Team Plattershare would have a lot of learning, fun, and experience along with the delicious food.  We give the opportunity to our home chefs and active members to drive the show and share their knowledge and expertise. We shared a  similar experience in our previous "Plattershare HomeChef Meet, Bangalore" event.
With the story of Margarita, the guest also learned how to make "Nutella fruit pizza" by Sai Priya, who is an active member of Plattershare and runs her blog MyCookingCanvas. 
While the camera went live and environment being lively, We got a lovely feedback from all our guests.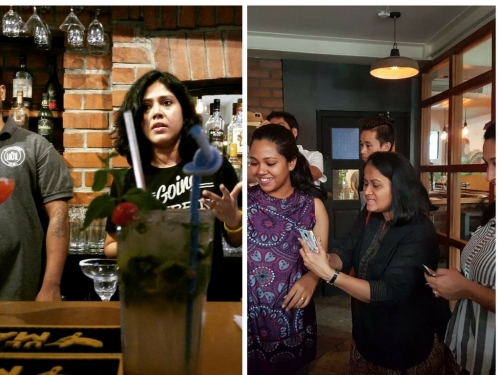 Here is what our Guest Subhasini Gupta from MsSuSays has to say about the event – "We tried their perfectly curated Strawberry Margarita and Mojito featuring the summer's fresh produce. Both were unique and tasted good. The mixologist used sugar syrup infused fresh ice-slush instead of ice cubes. This indeed gives the drink a good body and taste."
Our Guest Srikanth Akula, loved the place and called it Wild, and this is what he has to say about it – "Gorilla Barfare is the first place in Bengaluru which serves Slush based mocktails and cocktails, this is a place which replaced Jimi's Beer Cafe in Koramangala below Local: The Terrace Drinkey! 
The cocktails here are a 5/5 presentation to feel!
P.s special mention to the IrishCoffee, anyone who goes here, doesn't come back without trying it.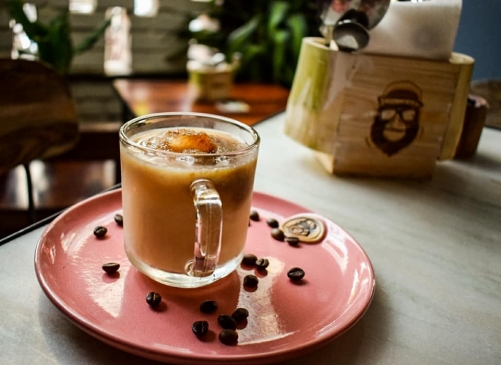 Pravin Menon, who is our active member and was also the guest has an amazing experience and here is what he says about it – "Lots of interesting cocktails and a dessert pizza by Sai Priya as part of the #plattershare gathering. Gorilla barfare is the new version of Jimi's cafe. The beauty of the cocktails is the fresh ingredients used instead of syrups. Fresh strawberries, watermelon, oranges, and cucumbers were used to make the margarita and a machine for fresh ice slush made it literally an icing on the top"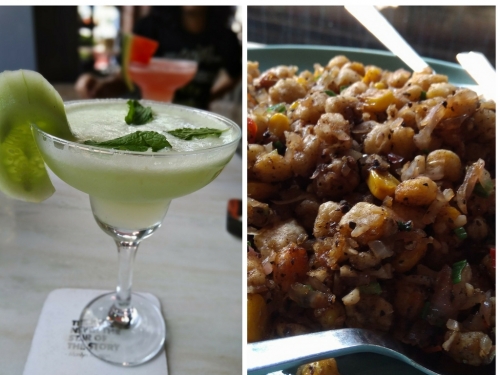 Our Guest, Punith Hede, loved it to be part of the event and here is what he has to say – "pizza session by blogger Sai priya, as she made her dessert pizza, which consisted of banana, strawberry, Nutella and mint toppings. I really liked the new kind of pizza, it had a unique and remarkable taste. I really enjoyed the event. Check out his story on Plattershare 
Another Guest, Vishal Bharadwaj, loved Irish Slush Coffees and he says he hasn't found it anywhere else in Bangalore till now. He was also fascinated by the bar bites and fresh Pizzas. Here is what he has to say about it.
Another Guest, Sundari Giri enjoyed her drinks and pizza and wrote a lovely note for all of us. Here is what she said on her blog Ladles and Spoons – "Momos, nachos, French fries, pizzas, and drinks were generously making the rounds during the entire event, by the very courteous staffs at Gorilla Barfare"
Star of the event, Sai Priya, prepared a Surprise Pizza -Nutella Fruit Pizza with fruits like bananas and strawberry and a hint of mint leaves. Sai Priya loved the experience and this is what she has to say about it – "I was invited to "Cocktails and Pizza Party" at Gorilla Barfare in association with Plattershare to take a Baking Session.
And I prepared a FRUIT PIzza. It was loved by all.I ended in making 5 large Wood-fired Pizzas. It was so much Fun !!
Pic Credit – BANGALOREExpress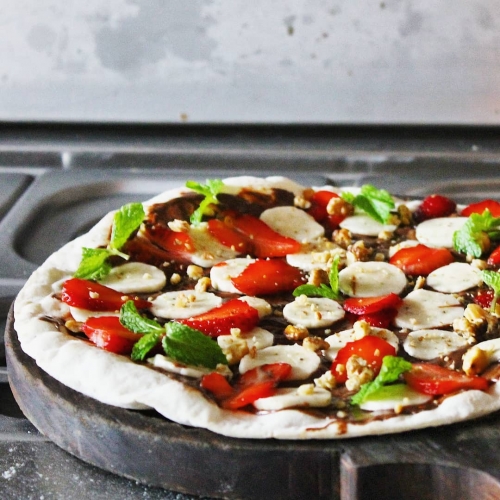 Samyak Nanda loved the sessions during the Pizza party and here is what he has to say about it – "The event at Gorilla Barfare kicked off with Saswati Behera demonstrating the preparation of few cocktails. Margarita cocktail, which is a combination of Cointreau and Tequilla is highly recommended.
The next set of the event was baking of delicious woodfired pizza by Sai Priya. We tried the Fruit Pizza which had banana, cut strawberries, mint leaf and lots of Nutella. We also tried their thin crusted Margherita pizza which was scrumptious"
He loved the ambiance and and here is one of his favorite clicks.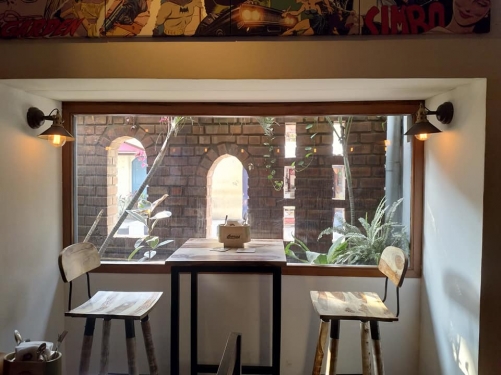 Last but not the least, the Speciality of the place, which is truly loved and expressed by Poornima Dinesh – "I loved their fresh watermelon slush margarita and their version of Irish coffee which was made with ice slush, (which is the speciality of the place)  which by the way, much better than crushed ice! 
We were served with some tasty chilly paneer, loaded nachos and spicy corn as bar bites which went well with our slush cocktails.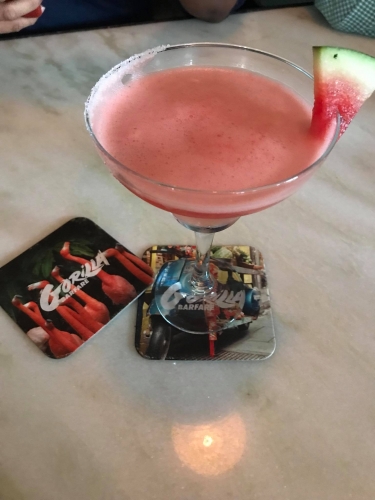 If you loved reading it, you will surely enjoy the place…share your experience by commenting on this story, if you have visited the place recently.