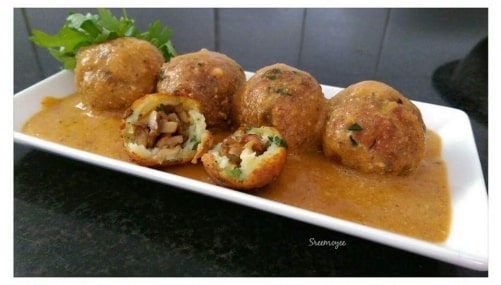 Stuffed Mushroom Kofta In Tomato Gravy
26 May, 2017
Although it's a bit lengthy to make this curry but it's worth the work. A delicious flavourful kofta in a simple tomato gravy.
Ingredients
For kofta dough : Spinach

chopped - 2 cups

Chopped garlic - 1 tsp

Cornflour - 2 tbsp

Paneer - 1 cup

Maida - 1 tbsp

Filling of the kofta : Chopped ginger - 1 tsp

Chopped green chillies - 1 tsp

White button mushrooms

chopped - 1 cup

Lemon juice - 1 tsp

Honey - 1 tsp

Refined oil

for frying

Tomato gravy : Ghee - 2 tbsp

Cream - 1 tsp

Cinnamon - 1 inch

Garlic paste - 1/2 tsp

Ginger paste - 1/2 tsp

Black Peppercorns - 10

Tomatoes

chopped - 2

Jeera powder - 1 tsp

Water

Red chilly powder - 1 tsp

Cinnamon powder - 1/4 th tsp

Fried cashew nuts paste - 2 tbsp
Instructions
Fry chopped garlic in oil and add the spinach and saute. Add salt.

Cool it for few minutes and then mix rest of the dough ingredients together to form a dough.

Now mix the filling ingredients together. Make small roundels of the dough and stuff each roundel with mushroom stuffing and reshape them to form koftas.

Deep fry then koftas and keep aside.

Heat a pan with little ghee, add the cinnamon and Peppercorns. Add the chopped tomatoes and salt.

Let it cook and simmer till the tomatoes are mushy.

Then add water and keep boiling for 10 minutes. Strain the tomato gravy.

Heat another kadhai with some more ghee. Add ginger garlic paste. Then add the strained tomato curry and stir.

Then add the fried cashew nuts paste. Add jeera powder, salt and leave it to simmer.

Add red chilly powder, cinnamon powder, little cream. Finally add the koftas and serve.