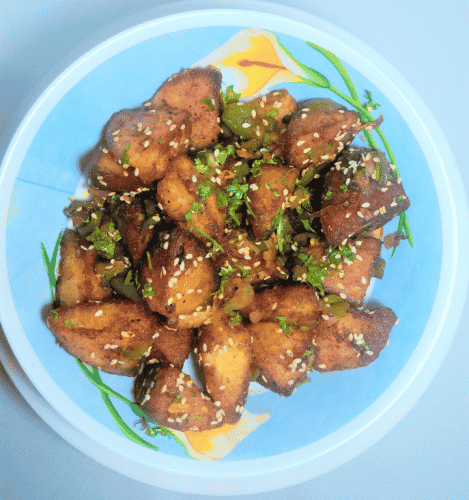 Chilli Idli
Left over idlis that can be made into a simple Chinese snack within minutes.
Ingredients
6

Left Over Idlis

1

large onion

Chopped Into cubes

1

large Capsicum

chopped into chunks

1

teaspoon

ginger garlic chilli paste

Salt To Taste

1/2

tbsp

red chilli sauce

1/2

tbsp

dark soya sauce

1/2

tbsp

tomato ketchup

1/4

teaspoon

black pepper powder

Spring onion

to garnish

1

tbsp

lightly roasted white sesame seeds

Oil as needed
Instructions
Cut the idlis into pieces. Deep fry / Shallow fry / Grill them. Add 1 tablespoon oil in a non stick pan. Heat it on full flame. Fry the ginger garlic chilli paste for about 20 seconds.

Add the onions and stir fry for 1 minute. Similarly, add the capsicum and repeat. We need to keep them crunchy so.no.need to cook for long.

Now add all seasonings and sauces. Mix up well. Add the idlis. Toss them for a minute.

Shut off flame. Garnish With spring onion and sesame seeds. Serve hot.
Notes
Work fast so that the crunchy flavor of onion and capsicum is retained.
Better to assemble all ingredients and then start.