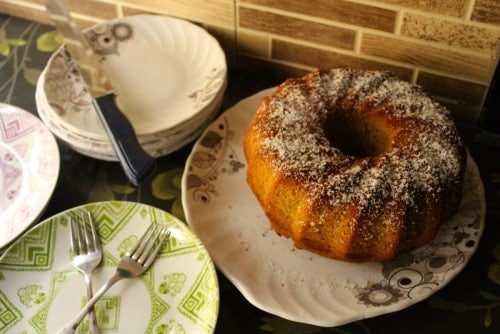 Indonesian Spice Cake
11 May, 2017
So back with a bang with a decadent and delicious cake for you all!This time from Indonesia all the way into our hearts comes one of the most magnificent looking,soft,spongy and delicious cake – the Spice Cake from Indonesia! I added Refined Oil in place of the unsalted butter the recipe generally used.Butter turns out a fluffier cake but in tropical countries like India and hot regions like Mumbai,the butter in the cake tends to go bad after a couple of days thus ruining the cake completely.While refrigerated,the butter solidifies which does not offer a tasty bite as intended.So the best substitute is ordinary refined Oil which we use for cooking!Neither does it solidify on chilling nor go sour at room temperature.It can be safely kept at room temperature for 24 hours thereafter has to be refrigerated to maintain the freshness.Then it stays fresh tasting for approximately 15 days.Whenever you want to have it,keep it outside 1 hour before eating.Or pop into a microwave to warm it!Follow the recipe without any other adjustments for a completely perfect and awesome cake which will be always there as a keeper recipe.
Ingredients
2

cup

cake flour/self raising flour/all purpose flour mixed with 2 tsp baking powder

1/2

tsp

baking powder

1

tsp

Nutmeg powder

1/2

tsp

Clove powder

2

tsp

Cinnamon powder

A pinch of salt

1 1/2

cup

refined oil/unsalted butter

1 2/3

cup

powdered sugar plus 2 tbsp

I used 1/2 cup granular demerara sugar for a more rustic taste

4

large eggs

3

large egg yolks

not the whites

2

tsp

Vanilla extract
Instructions
Preheat oven to 160°C and prepare as in grease a metallic pan if using!In a large bowl sift flour with baking powder,nutmeg,clove,cinnamon powders and salt.Keep aside.

In another large bowl,beat butter till creamy and add sugar.Beat for 5 – 7 minutes till well blended.Add eggs one at a time beating after each addition.Then add the yolks and beat till smooth.Add vanilla extract and mix well.

Now fold in the prepared dry ingredients 2 tbsp at a time till it is completely used up.Fold with an up and down motion so that air is well incorporated into the batter.

Spoon into the baking pan and thump the pan on a flat surface to release any air pockets.Bake for 45 minutes – 1 hour till a toothpick inserted in the centre comes out clean.

Let the cake cook for 15 – 20 minutes and loosen the sides with a sharp knife.Invert onto a plate and sift the remaining 2 tbsp powdered sugar on top.
Notes
Use any pan for this – Springform circular or square,Bundt,Tube or Angel Cake Pan.I used a silicon mould used for Greek Cakes I picked up at Heathrow Airport some years ago!