Welcome, New Year!! You must be thinking about New Year's Eve nibbles and what should you cook today to celebrate and enjoy. Of course, you don't want to be in the Kitchen whole day because it's time to enjoy, be with the family and just relax while you watch your favorite movies.
Here are few simple yet twisted recipes as these easy recipes have been given an Indian twist which would bring a completely new flavor to your Dinner Table tonight 
Let's begin with something healthy like a salad.
Indian Caesar Salad – If Salads is your New Year resolution and you want to start as early as the world prepares for the New Year. Check out Indian Caesar salad which is a fusion if Italian Caesar Salad dressing and Indian tangy pickle. This is going to change your mind if you still think Salads are boring – Not anymore. Click for the recipe Indian Caesar Salad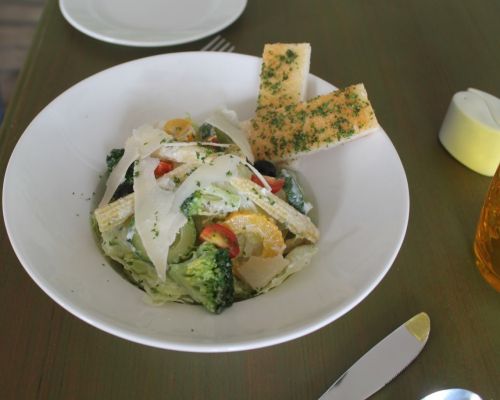 Chicken Potato Broccoli Soup –  Piping hot soup in the cold winter night…Wow, The warmth of Soup will bring in warmth and happiness in your new year too. Enjoy this complete meal as this has all in one pot. From Chicken to potato to broccoli this soup has it all. Watch out the video for the recipe.
Chicken Terrine Chaat – Chaat Party and New Year go together but this time try fusion chaat where Chicken meets the Chaat and is a win-win for chicken and Chaat lovers. Click for the recipe Chicken Terrine Chaat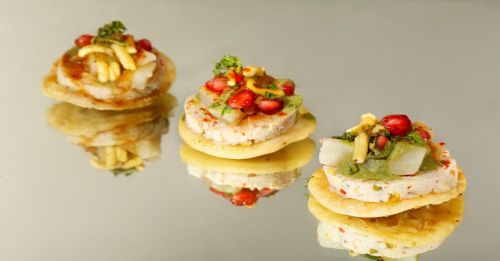 Tasty Canapes:  These are kids friendly canapes ( yes Adults can eat too) which has been made from leftover because let's take the resolution this year that we are not going to waste food as it involves cost, efforts and your hard work to make it. Check out these Canapes and make them when you want a quick, easy recipe which can be presented in a different way. Watch out the video for the recipe.
Healthy Herbal Pasta: Pasta is loved by all and Basil sauce is used to make Green pasta but when the Basil leaves meet its Indian Sister Tulsi then the flavour and aroma are heavenly. Check out the Video for making Healthy herbal pasta. Watch out the video for the recipe.
The Above Recipes have been shared by Executive Sous Chef Dheeraj Bhandari. Chef Dheeraj is a passionate Indian chef, TV show host, food stylist, blogger. He started his career in 2003 with The Claridges Hotel New Delhi at Abdul kalam road. He brings over 13 years experience at five-star hotels and luxury ships such as the Eros Intercontinental, Star Cruises, Royal Caribbean cruise liner and Google Gurgaon. Chef Dheeraj Bhandari presently working at MOSAIC HOTEL MUSSOORIE as an Executive Sous chef managed by Tux hospitality Shipra groups of hotels.