Plattershare caught up with ITC Chef Rahul Shrivastav, who was also a judge of our Recipe contest, to obtain his views on food, life and the pressure of a high profile job. Chef Rahul has 12+ years of experience in the food industry and has worked with top brands like The Claridges, The Park, Taj, Oberoi, Yum and ITC in his illustrious career.
Tell us something about your culinary journey?
It started as a short love affair which turned into a loving marriage of 12 years. I started to work when I was 19 years and was delivering homemade food from my sister's house (Veeta didi as I fondly call her) in New Delhi to corporate houses around. From then, till now, nothing much about me has changed except my waist size, as my age and waist are progressing concurrently. Hope this will not continue 🙂
What does a day in the life of a Head Chef look like?
Indeed no day is same at work, I always open the door of my car and think of what new dish/food experience will I create today. On the way to work, I look around vegetable sellers selling the freshest of the produce. Get my cues from there and get into my R&D kitchen and start on a new canvas to paint my flavours. Sometimes, it can be challenging because only those problems hit my desk which no one in the team has a solution. But we all get together and look for solutions.
On Work-Life balance…
Missed many a Diwali but celebrated numerous Christmas Brunches with my hotel family. No regrets, only everlasting memories.
How do you ensure the quality and standard of food going out to customers is maintained every time?
This is like serving your child or wife. I always try to serve the best possible I or my team can create. Always putting the best foot forward, even if it means working 16 hours to get the right food served at right time and temperatures.
Can you share one such experience where you designed the menu for dignitaries? What was in the menu?
I have served many times to Mr Hamid Ansari (Vice President of India) and his family. He loves Spanish fare and loves to experiment.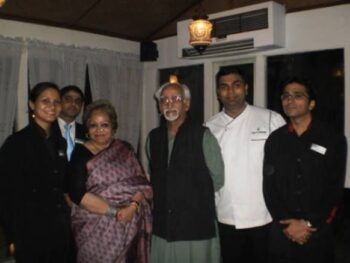 What is more important: Presentation of the dish or the Taste?
Both are! You see before you eat and you relish the taste of the masterpiece.
Tips on plating a dish…
Think of gardens when presenting dishes, use edible flowers and try not to serve on regular round plates but with vivid platforms/patterns and don't be afraid to experiment (even if it fails).
Guidelines for people looking to start a food related venture:
Rule #1. Food is never going to fade and keep changing menus.
Rule #2 : Whenever in doubt refer to Rule #1
What is your key goal as a Chef?
What I want to continue doing for the rest of my life is to bring a smile on the faces of people who I satiate with the food I curate with love, passion and discipline.