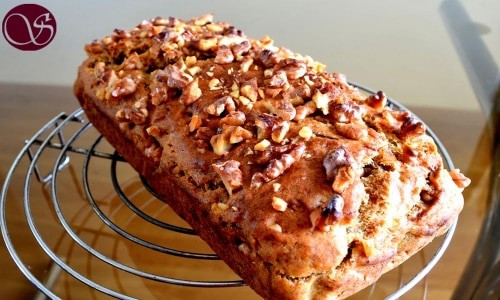 Easy Vegan Healthy Banana Bread With Wheat
How to make Healthy Banana Bread: If you have been following Vegan for long, then you are no new to a Vegan Banana Bread. So far you have been eating vegan banana bread recipe with all-purpose flour or some wheat flour.
Today you will learn a complete whole wheat healthy vegan banana bread. People mistake this recipe as eggless banana cake with wheat flour. But, cake and breads are completely different.
Before we understand the difference between banana cake and banana bread, you may like to check another popular vegan recipe that will tickle your taste buds vegan chocolate banana bread. Whole Wheat Banana Bread vs. Whole Wheat Banana Cake.
People confuse themselves between banana cake and bread because of similar preparation. But, you must be able to distinguish between a bread and a cake. A cake always call for a pouring consistency of batter. Whereas this recipe uses a thick consistency of batter, just like dough for any bread. Consistency of the batter changes the thickness, and texture of the end product.
Whole Wheat Vegan Banana Bread. This is a time and tested eggless whole wheat banana bread that makes a moist vegan banana bread. Moreover, you will be surprised with the tenderness and health benefits of this vegan banana bread.
Surprisingly, banana and cinnamon has great affinity with each other. Banana and cinnamon complement each other and make the bread amazingly flavorful.
What is a vegan product? A vegan product does not carry an animal product or its by-products. Further, the products must not be tested on animals. Natural, unprocessed plant food falls under the category of a vegan food bucket. The list includes fruits, veggies, seeds, dry fruits, and nuts. This vegan banana bread recipe follows all the guidelines of a vegan product. Rising popularity of Vegan Products.
There is a variety of reason for people to look for vegan products. There are people who believe in reducing the cruelty with animals. Consequently, they like to drop the animal products from their diet. This is a step from them to say No to cruelty to animals. Following this practice is Veganism.
Presently, a lot of people have developed allergies to dairy products. Such people opt for vegan breads and cakes. Irrespective of the reason, this whole wheat banana bread vegan recipe is guaranteed to list into your best banana bread.
Ingredients
2

Bananas

Large, Over Ripe

200

gm

Whole Wheat Flour

120

ml

Oil

100 gm

gm

Refined Sugar

Organic

1/2

tsp

Cinnamon Powder

1/4 tsp

tsp

Nutmeg Powder

1 tsp

tsp

Vanilla essence

Optional

2

tbsp

Sunflower seeds

1/2 tsp

tsp

Baking Powder

1/2 tsp

tsp

Baking Soda

1/4 tsp

tsp

Salt

1/4

cup

Walnuts

Chopped
Notes
For this recipe, use ripe bananas only.
Also See:
Recipe Nutrition
Calories:
326
kcal
|
Carbohydrates:
38
g
|
Protein:
5
g
|
Fat:
19
g
|
Saturated Fat:
2
g
|
Polyunsaturated Fat:
7
g
|
Monounsaturated Fat:
10
g
|
Trans Fat:
1
g
|
Sodium:
169
mg
|
Potassium:
230
mg
|
Fiber:
4
g
|
Sugar:
16
g
|
Vitamin A:
24
IU
|
Vitamin C:
3
mg
|
Calcium:
32
mg
|
Iron:
1
mg