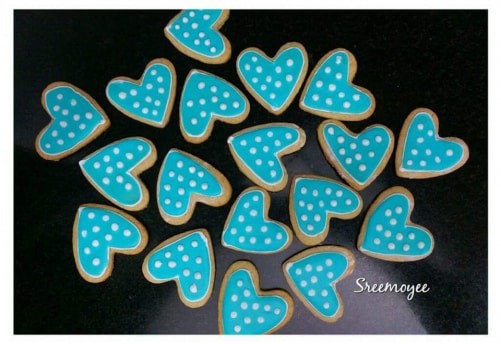 Sugar Cookies
Beautiful and crispy cookies topped with colourful royal icing.
Ingredients
Flour - 3 cups

Salt - 1/2 tsp

Baking soda - 1 tsp

Unsalted butter - 1 cup

White sugar - 1 cup

Eggs - 2

Vanilla extract - 2 tsp

Royal icing : Egg whites - 2

Lemon juice - 2 tsp

Icing sugar - 3 cups

Blue food color - few drops
Instructions
Sieve the flour, salt and baking soda together. Whisk the butter and sugar together until fluffy.

Add the eggs, vanilla extract and whisk till everything is combined. Now mix in the flour mixture into the egg mix. Form a dough.

Cover it with cling film and chill it in the fridge for an hour. Now roll the dough, cut cookies using a cookie cutter.

Chill for 20 minutes and bake them in a preheated oven at 177℃ for 10-12 minutes. Cool the cookies.

Now whisk the egg whites with the icing sugar and lemon juice to form the royal icing mix. Divide it into two parts and to one of them add the blue color and pour it into a piping bag.

Pour the other part in an icing bag as well. Pipe the lining of the cookies with it. Fill in the cookies with the blue icing and pipe white icing dots on it. Let it dry for 8-10 hours before serving.