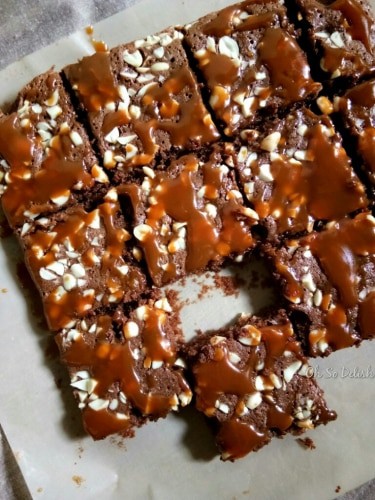 Snicker Brownies
14 July, 2017
The recipe is called snicker brownies not because snickers chocolate is used here. It is called so because my brownies taste exactly like the chocolate snickers. Like every other recipe of mine I try to make it as healthy as possible (though brownies can never be healthy!) by replacing ingredients and techniques that don't bring about drastic change in taste. I try to use healthier alternatives so here I have used oats and wheat flour and less butter to make the brownies along with home made salted caramel and roasted peanuts for the snicker like taste. You have to try it to know how yummy these actually are! Must try for all snicker lovers.
Ingredients
For the brownies- Oats flour 1/4 cup

Whole wheat 1/4 cup

Butter 1/4 cup

Milk chocolate 60g

Cocoa powder 2 tablespoon

Eggs 2

Organic raw Sugar 1/4 cup

Roasted peanuts

For Salted caramel

Sugar 1/2 cup

Cream 1/4 cup

Butter 3 tablespoon

Salt 1/2 teaspoon
Instructions
Salted caramel preparation- take sugar in a heavy bottomed pan on a medium flame with constant stirring. The sugar will form lumps and will eventually turn into amber color liquid.

Once the sugar melts Immediately add the butter. Use a whisk to mix as the mixture will splutter. The whisk will help in even mixing.

After the butter melts slowly add the cream with constant stirring. Care has to be taken because the mixture will splutter a lot. Bring it to boil for a minute. Turn off the flame and mix in the salt. Cool down before using.

Brownie preparation -Double boil the butter and chocolate or microwave it for 30 seconds. Mix both together to form a chocolate sauce.

Mix the dry ingredients- oats flour, wheat flour, cocoa powder, salt and baking soda.

Beat the eggs till light and fluffy for about 5 minutes. Add the sugar and beat till creamy.

Add the melted chocolate and butter mixture, mix well. Fold in the dry ingredients. Do not over mix.

Pour half the batter in a parchment lined cake tin, then pour in some of the salted caramel sauce and some peanuts. Pour rest of the brownie batter over this. Throw in some more peanuts.

Bake in a preheated oven at 160-170 degrees Celsius for 25-30 minutes.
Notes
adjust the sweetness in the brownies as per your liking
Time and temperature as per your oven.