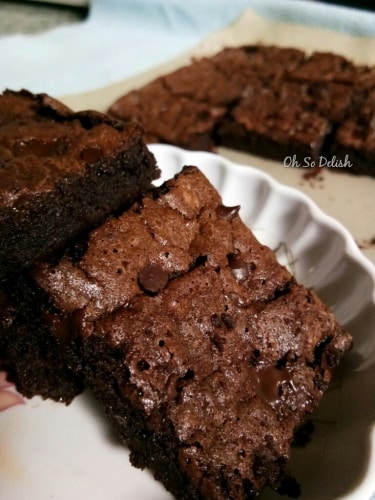 Gooey Cappuccino Banana Flour Brownies
10 October, 2017
My first entry Gooey cappuccino banana flour brownies for the Belly Nirvana campaign in association with placeoforigin.in. A gluten free brownie recipe which is absolutely yummy! I have used raw banana flour earlier but always in combination with other flours. This time I thought I will use it as it is, and what better way to experiment other than brownies? Healthy snack being the theme, healthy gooey cappuccino banana flour gluten free brownies seemed to be perfect. In spite of being gluten free gooey cappuccino banana flour brownies turned out so good, in fact nobody can make out the difference! It's as good as brownies made with all purpose flour, I'm not exaggerating. I have used Natirèl raw Banana flour here. Raw Banana flour in itself doesn't have any flavor as this is made from the unripe bananas which are peeled, dried and powdered. Natirèl raw Banana flour is highly nutriticious and is high in dietary fiber, potassium and vitamin B 6. It is perfect for those counting calories and a great choice for those with gluten intolerantance. Other benefits are it improves fat burning, metabolism, aids weight loss and lowers cholesterol levels. Natirèl raw Banana flour has a light and airy texture and very much similar to whole wheat flour. So it can be used in combination with wheat flour in cakes and cookies with great end results.
Ingredients
Natirèl raw Banana flour 50g

Eggs 2

Cane sugar 90g

Dark chocolate 140 g

Coffee powder 1 tablespoon

Hot Water 1 tablespoon

Butter 60 g

Chocolate chips 1/4cup

optional
Instructions
Double boil the butter and chocolate or microwave it for 30 seconds. Mix both together to form a chocolate sauce.

Mix coffee powder in hot water and keep aside.

Beat the eggs till light and fluffy for about three minutes. Add the sugar till creamy, for two minutes.

Add the melted chocolate-butter mixture and coffee, mix well.

Fold in the banana flour with light hands. do not over mix the batter.
Notes
Do not over bake, after 25 minutes check with a tooth pick if the crumbs stick to the tooth pick it's perfectly done. Like cakes, brownies don't come out clean on toothpick. If you let it bake for some more time it looses the fudgy gooey texture of brownies.
Use a parchmentor baking sheet o bake brownies because they tend to stick to the tin even if your baking dish is properly greased.
When your brownie is out hot from the oven just bring both sides of the parchment sheet towards each other to achieve this lovely crinckled top. This has to be done when the brownie are hot.
Use good quality coffee for strong coffee flavor.