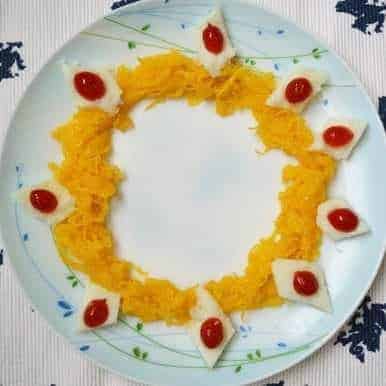 Egg Garland Or Mutta Maala
27 December, 2017
Egg garland or Mutta Maala is a traditional dessert of the Malabar cuisine. It is usually served during special occasions like Eid, weddings and other family gatherings. Egg garland or Mutta maala is everything egg!! Soft and luscious egg white cake topped with beautiful, delicate and appealing golden yolk strings, is a must try this festive season!
Ingredients
5

Eggs

1/2

cup

Sugar

3/4

cup

Water

2

pods Cardamom

Cherries for garnish

1

Disposable glass

1

Needle
Instructions
Separate the egg yolks and whites for all the eggs.

Make 3 holes at the bottom of the disposable glass and keep it ready. (The traditional way of making this egg garland is to use an empty egg shell with a tiny hole at the bottom).

Now lightly whisk the egg yolks and keep it aside.

Boil water in a pan and add in the sugar to make a sugar syrup.

Now to this boiling sugar syrup, we have to pour in the egg yolks through the holes in the disposable glass.

Rotate the glass so as to form chains of egg yolks. Do not pour everything at once, it may not cook evenly.

Cook for about 1-2 minutes, slightly moving them with a slotted spoon.

Then remove from the syrup and allow it to cool. Repeat until all the egg yolks are used up.

Now allow the remaining sugar syrup to cool.

Once it is cooled, mix it with the egg whites.

Add in the powdered cardamom and whisk everything well.

Now steam this in a steamer, for 20-25 minutes, until cooked completely.

Allow to cool.

Now our egg garland is ready and you may serve cutting the white egg cake to smaller pieces and placing the yolk chain on top. Garnish with cherries.