Recipe Taste
Not Specified
Yield / Serves
6 Servings
Delicious and crispy flaky pasties filled with spices, and boiled eggs.
For the pastry dough : Flour - 1.25 cups
Vegetable curry : Chopped onion - 1
Boiled corn kernels - 1/2 cup
Chopped carrots- 1/4th cup
Chopped beans - 1/4 th cup
Chopped spring onions - 2 tbsp
Ginger garlic paste - 1 tsp
Red chilly powder - 1/2tsp
In a food processor or mixer, add the cold butter (the butter must be cold and cut into cubes), flour and pulsate in two or three pulses.
Add the ice water and pulsate or blend till everything is mixed. Pour the dough into a bowl and mix it, cover it and keep it refrigerated for 30 minutes.
For the vegetable curry , heat a pan with some oil. Add the chopped onion and saute till golden brown.
Now add the ginger garlic paste, red chilly powder , salt and then stir. Then add the chopped vegetables.
Finally add the the corns, oregano and basil.
Take each square and put a spoon of the vegetable curry in the middle. Put a half of the boiled eggs.
Apply a little water to opposite ends of the square. Bring one end onto for middle and seal it by bringing for other end on top.
Bake them at 180℃ in a preheated oven for 20-25 minutes.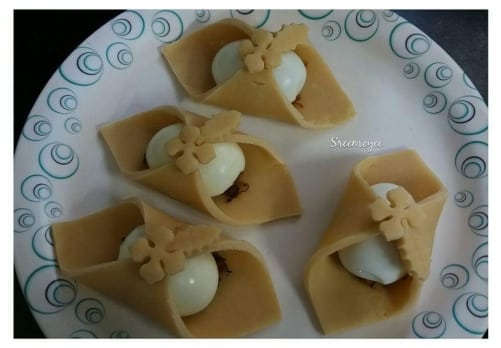 How useful was this post?
Click on a star to rate it!
Rated 4.3 based on 3 votes
Be the first to rate this post.