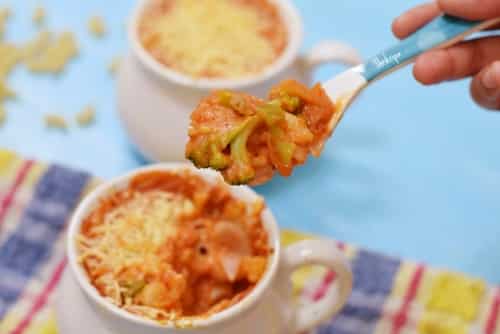 Mug Pasta / One Bowl Pasta
4 April, 2018
When my daughter had a holiday in between her exams, she has demanded for Pasta treat, that too in a mug for an afternoon lunch. She was alone on that day and I prepared it only for her and she was happy with the result. Today, I made it once again for my twins and I wanted to share the recipe with all my readers. For any preparation of pasta, I normally add any flavors to the white sauce. One of my daughters doesn't like the bland taste, and here I thought of using tomato to give a little tangy taste. I have used cooked elbow macaroni pasta. My daughter wanted Broccoli, capsicum and onion as veggie filling. Then comes, grated cheese. I have used mozzarella cheese. Here I am going to give for 2 big cups (meal for 2kids)
Ingredients
Macaroon 1 cup

Broccoli ½ cup

Capsicum 1

Onion 1

Olive oil or butter 2 tsp

Tomato 2

Whole wheat flour 2 tea spoons

Milk ½ cup

Seasonings of your choice

Garlic salt as needed

Mozzarella cheese as needed
Instructions
-Take one tawa, add 1 tea spoon of butter, toss all the three veggies (onion, broccoli and capsicum) by adding garlic salt, pizza seasoning, red chilli flakes or any other seasoning of your choice.

-Now comes the assembling part. -Take 2 Big ceramic mugs, if it is not available, use any baking dish.
Notes
Healthy, nutritious meal for your loved ones.