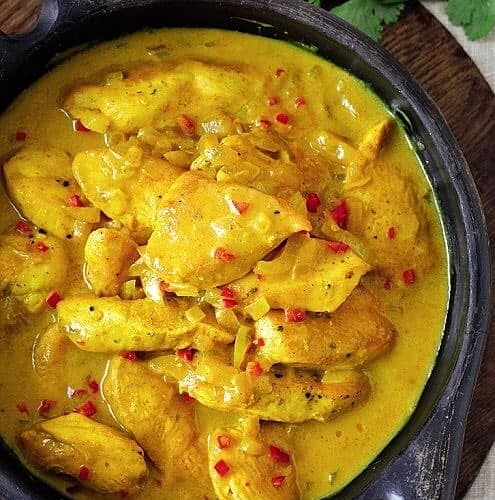 Meen Moliee
10 November, 2016
Ingredients
For Marination

King fish / sole fish or any firm fleshed fish and cut into in cube size pieces

Turmeric Powder : 1 tsp

Lemon juice : 1 tsp

Salt to taste

For Gravy :

Onion : 1 large chopped

Tomato : 1 large chopped

Ginger : 1 inch piece

crushed

Garlic : 2 cloves

crushed

Black Pepper Powder : 1 tsp

Thick Coconut milk -1st extract /Onnampaal : ½ cup

Semi Thick Coconut milk - 2nd extract /Randampaal : ½ cups

Thin Coconut Milk - 3rd extract /Moonampaal : 1 cup

Mustard Seeds : ½ tsp

Curry leaves : 2 sprig

Green chillies : 2-3 nos

slit

Lemon juice - : 1 tbsp

Coconut Oil : 3 tbsp

Salt to taste
Instructions
Wash and clean the fish and pat dry it.

Marinade the fish with marinade ingredients listed above and set aside for 15-20 minutes.

Heat oil in a pan and slightly fry marinated fish pieces on a medium heat and keep it aside.

Heat a pan (preferably in 'Kalchatti' an earthen pot) and pour required coconut oil. (Note : It will enhance the authentic taste) Splutter the mustard seed

Splutter the mustard seeds; add the ginger, garlic and saute for a minute.

Add the sliced onion, curry leaves, green chillies and saute till it becomes soft and translucent.

Add the tomatoes and saut'e for a minute. (Note : Do not mash the tomatoes).

Add the pepper powder and simmer the heat.

Add thin coconut milk / moonampaal and salt and mix well.

Add the fried fish pieces carefully, cover and cook the fish. As the fish is half done while frying you just need to cook for another couple of minutes.

Now pour the 2nd extract - semi thick coconut milk / randampaal and hold onto the sides of the pan and swirl it until the fish is well totally immersed in the gravy. Let it cook slowly for sometime till the fish completly absorbs it.

Remove the pot from the fire, pour the 1st extract- thick coconut milk/onnampaal; place it on low fire again for a minute and gently shake so that it gets mixed . (Note : Don't stir after the fish is cooked, as the fish might break.

Remove the pot from the fire and add some lime juice and with some coconut oil in the end. Enjoy and Serve with rice .
Notes
The Above Recipe has been Shared by Celebrity Chef and MasterChef Session 1 Runner Up – Chef Jayanandan Bhaskar. If you have any queries regarding the recipe. You can follow him and message him on his Plattershare Profile.