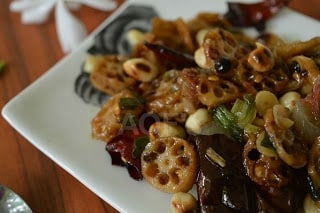 Kung Pao Lotus Root
10 April, 2017
Most of us are used to cooking Lotus root in the traditional Indian Style. But once I stumbled upon this Chinese recipe of Kung Pao Lotus Root while surfing online, I just could not resist trying it out. Since i was not having all the ingredients, I improvised on the recipe. Kung Pao Lotus Root is hot, sweet, sour and spicy. This recipe is a great option when you are in the mood to serve some vegan starters/appetizers to your family .
Ingredients
100

gm lotus root

Use one that is unblemished and thick

3

tbsp

chopped spring onions

greens only

1

tsp

chopped garlic

thin slices

1

tsp

chopped ginger

thin slices

3

dry red chili peppers

medium heat ones

2

tbsp

roasted peanuts

1/3

tsp

peppercorns

3

tbsp

canola oil

For the sauce -

1

tsp

thin soy sauce

2

tsp

vinegar

1

tsp

sugar

1

tsp

cornflour

1/5

tsp

salt

or to taste
Instructions
Peel and slice the lotus root. Soak in water till you use them.

Take the soy sauce, vinegar, sugar, salt and cornflour in a cup . Add 2-3 tbsp water to the cup and mix into a thin paste

Heat the canola oil in a wok.

Remove the lotus root from water and dry them on paper towels. Shallow fry in small batches on medium flame till they turn brown on the edges. Remove from wok and drain on paper towels.

Drain most of the oil from the wok leaving just about 1 tsp oil. Add the broken red peppers and peppercorns. Once they release their fragrance , add the spring onions, garlic and ginger. Fry for 2 mins without browning them.

Add the fried lotus root along with the sauce. Stir fry till the sauce thickens in consistency.

Finally add the peanuts, give it a toss and switch off the flame. Serve hot.
Notes
Be careful while frying the lotus stem. Too much heat will burn them and change the taste.
Fry in small batches else they end up absorbing more oil.