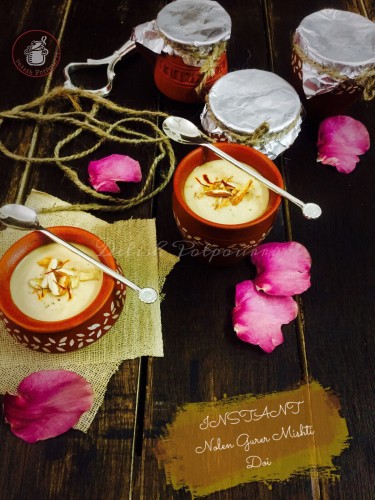 Instant Nolen Gurer Mishti Doi/Sweet Curd With Date Palm Jaggery In A Jiffy
The quintessential Mishti Doi is one of the few things that predominantly defines a Bengali. Mishti Doi or Mitha Dahi or Sweetened Yoghurt is common in the states of Bengal and Odisha. This divine dessert is made from thickened milk and sugar or plain jaggery or the Date Palm Jaggery. Though the usual traditional Mishti Doi takes few hours to set and is a tedious process, the one I have prepared today is instant and made in 10 minutes without compromising on the taste. A creamy, delectable,finger licking good dessert with a divine smokey flavour. A perfect way to end your meal when you have sudden guests as it can be whisked in a jiffy and will leave you craving for more.
Ingredients
1

cup

Greek yoghurt or thick Hung Curd

1/3

Cup

powdered Nolen Gur or Date Palm Jaggery

A pinch of Cardamom Powder

4-5

Slivered Almonds

A few Saffron Strands
Instructions
Whisk the Greek yoghurt or hung yoghurt with a hand held whisk gently for 20-30 seconds.

If you do not find greek yoghurt then make hung yoghurt by keeping the full fat curd in a muslin lined colander for 1-2 hours.

Now add the powdered Date palm Jaggery to the yoghurt and keep whisking it with gentle strokes till the jaggery is well incorporated in the curd.

Add the cardamom powder and mix.

Pour in earthen or ceramic containers, garnish with slivered almonds and saffron.

Cover the containers with cling film or aluminium foil and chill it in the fridge for 45 minutes to 1 hour.

Serve Chilled.
Notes
If you do not get powdered Nolen Gur then powder it with a rolling pin with the Gur in a zip lock.It won't be uniformly powdered but as you whisk it blends with the curd.Make sure there are no lumps.
Lot of people like the smokey flavour of the Nolen Gur , it's upto you to add cardamom or saffron or just have it as it is.
Chilling for atleast 45 minutes is very important ,otherwise it won't set and will be creamy.More chilling will give you more thick Mishti Doi.
Plain jaggery can be used if you don't have date palm jaggery. Do not use liquid or melted jaggery as it will affect the consistency of the Doi.
Adjust the quantity of Nolen Gur according to the taste you prefer.