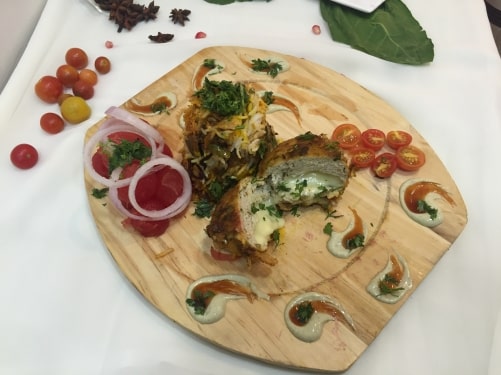 Chickhen Cheese Kofta Biryani ___Bae-Yani
chicken cheese kofta biyani is great on taste & flavours, biryani is the one closest to our heart, also this biryani u ill love to make again & again once u tried for sure .
Ingredients
500

gm

dawaat basmati rice

FOR THE KOFTA

1

kilo lamb

chicken mince

3

large onions very fine chopped

2

tsp.

garlic paste

1

tsp.

ginger paste

2

tsp.

garam masala

3

tsp

tomato paste

1/2

cup

coriander leaves chopped fine

1

pinch

nutmeg & mace poweder

10

small cubes of cheese

1

tsp.

green chillies

salt to taste

FOR THE COOKING GRAVY

4

large tomatoes sliced

2

tsp.

coriander powder

1

tsp.cumin powder

1/2

tsp.

turmeric

1

tsp.

garam masala

1

tsp.chilli powder

optinal as per your required taste

5

tbsp.vegetable oil

2

tbsp.garlic paste

1

tbsp.

ginger paste

TO GARNISH

1

large onions thinly sliced

1

tbsp.

saffron strands

3

tbsp.

warm milk

3 to 4

tbsp.

fresh coriander chopped
Instructions
wash the rice , then soak it in warm water for 30 minutes. add salt ,cook the rice until almost done. drain remaining water (if any) and set aside.

put the minced meat , 2 of the chopped onions , 2 tbsp garlic paste, 1 tbsp ginger paste, 2 tbsp garam masala tomoto puree and corinder leaves in large bowl mix it well by adding salt and pepper , dash of nutmeg & mace powder, keep aside

form the eqully sized balls and rolled by adding cheese cube in center ans roll, keep on plate

heat the oil in a pan and fry the sliced onions in it until crispy and golden. when done , drain and remove from the oil ans set aside on kitchen towel to garnish biryani later

in the same oil, add the reamaining chopped onions . fry till they are light brown then add ginger & garlic paste . fry for few minutes , add all spices -coriander, cumin, red chilli powder, garam masala,turmeric & fry for 2-3 minutes

add tomatoes and mix well. fry the gravy until oil begins to rise the top.

add 1 cup of warm water to the gravy and season with salt to taste. gently add meat balls now. do not stir for atlest the next 5 minutes.

stire gently so as not to break the koftas

cook uncovered until the meat balls are done. there should not be more than 1 to 11/2 cups of gravy left at the end of the stage, so continue to reduce it as nedeed.

soak the safrron strands in a warm milk for 2-3 minute

take a large deep oven proof or dutch oven with its lead ,grease with some oil in the bottom . layer with rice kofta as follows rice=koftas=rice with sprinkle of coriander leaves in every step

pour saffron infused milk all over the top of the last layer of rice with half of barista ( fried onions)

cover the dish and seal it tightly

bake it or put it on in a low flame for about 30 minutes

serve hot with a boondi or vegetable raita of your choice and enjoy
Notes
boil the rice with whole spices for more aroamtic flavours, never over cook the rice. always use saffron strand to colour the biryani instead of synthetic food colours. add dreid lemons to balance out the charred flavours , if you burn the biryani .