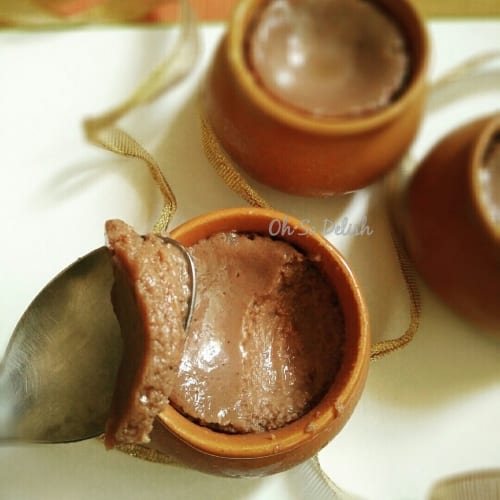 Bhapa Chocolate Mishti Doi (Baked Sweet Chocolate Yoghurt)
4 April, 2017
Bhapa chocolate Mishti doi is my variation to the famous Bengali Mishti doi which is loved by all once they have had the taste of it. Bhapa chocolate Mishti doi is a delight for chocolate lovers! A prefect dessert option in summer. I've made it healthy with coconut milk and jagerry.
Ingredients
Thick curd 1 cup

Thick fresh Coconut milk 1/2 cup

Home made Condensed milk 1/4 cup

Low fat cream 1/4 cup

Dark chocolate/milk chocolate 1/4 cup

Jagerry powder 1/4 cup
Instructions
Melt the jagerry on stove top, melt chocolate in microwave. If it's not melted completely add it to the jagerry and mix both together.

Take yoghurt, coconut milk, cream and condensed milk. Whisk them well.

Once it's bearable warmth pour the jagerry chocolate mix to it and blend everything well till it's smooth and creamy

Take oven safe bowls or earthen pots pour the yoghurt mixture. Place the bowls on a tray. Fill the tray with hot water such that the bottom of the bowls touch water.

Bake in a preheated oven at 180 degrees Celsius for 30 minutes or until the top is firm.

Allow it to come down to room temperature then refrigerate for 3-4 hours before serving.
Notes
Adjust the sweetness according to your liking.
Whisk everything well until smooth and creamy.
Refrigeration helps in proper setting of the yoghurt.
Use fresh coconut milk.