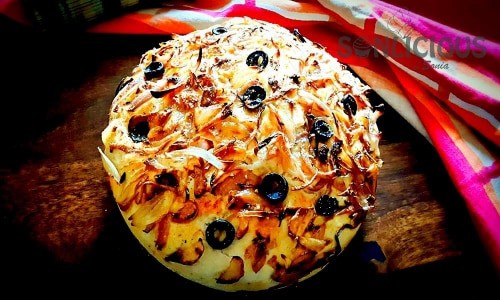 Healthy Focaccia Bread With Caramelized Onions And Olives
2 May, 2017
Italian Focaccia bread is a flat oven bread, and my recipe makes it a healthy Focaccia bread. This bread is something similar to a Pizza but a little thicker. I am always health conscious and try to keep my bread as healthy as possible. My usual me asked me to make healthy Focaccia bread by replacing 50% of the all-purpose flour with whole wheat flour.
Ingredients
Whole Wheat Flour 125 gm

All Purpose Flour 125 gm

Fresh Yeast 10 gm

Sugar 1 tsp

Salt 1 tsp

Garlic Powder 1 tsp

Water 150 ml

Olive Oil 3 tbsp

Caramelized onions 1/2 cup

Pitted Black Olives 1/4 cup
Instructions
In a bowl, take 50 ml lukewarm water. Add sugar and yeast to it. Mix it well and keep aside for 10 minutes or until yeast froths.

In a mixing bowl, take wheat flour, All-purpose flour, salt, garlic powder, Olive oil. Make a well in the centre and add yeast solution. Start kneading. Add water little by little and make a dough.

Initially the dough will be sticky. Keep kneading the dough for 10 minutes. You will get a smooth, elastic and non-sticky dough.

Grease a pan and place kneaded dough into it. Cover it with cling wrap and let it rest for 40 minutes for the first rise or until it doubles in volume.

After first rise, Take out the dough on a surface, lightly dusted with flour and punch the dough to release the air. Knead the dough for another 5 minutes.

With the help of a rolling pin, roll the dough out into a sheet of 1 inch thickness. Place this in a greased baking tin. Add caramelized onions and Black olives evenly on it.

Cover it with cling wrap and set aside for another 30 minutes for second rise or until doubles in volumes.
Notes
You can use your choice of vegetables for toppings.