Celebrity Chef Kunal Kapur – Meet him and you would instantly love the way he talks while conducting his "Food Camp – Basics and Beyond" workshop at IIHM, Bangalore where you learn everything you need to know about food.  He will make you laugh and think at the same time. He will teach you the hardest things in the culinary world in the simplest of ways. He candidly admits being arrogant in the earlier stages of his career, but none of that reflects on his face now when he smiles as he brushes the spikes of his hair.
A celebrity, a TV icon, host of various shows like Pickle nation, The Foodie comes to America, Saffola Fit Foodie; judge of MasterChef India, a traveler and a researcher. Did you know amidst all these roles he is a part time gardener too? Plattershare got an opportunity to have a tete-a-tete with him during one of his "Food Camps" which was held at IIHM, Bangalore, the pioneer in the Indian culinary industry.
His versatility can be seen from the fact that he has been traveling across India to research and discover the lost and forgotten pickles of India while also working to improve the condition of street vendors across India through the NASVI (National association of street Vendor of India) initiative. He served Prime Minister Narendra Modi and the German Chancellor – Angela Merkel pure satvik food who called him to say that she never felt the need to eat her favorite steaks while she enjoyed the food which he cooked.
A man who is humble, down to earth and charming with his perfect smile, talks about the Indian food scene which has lot of scope in future.
Tell us something about your signature dish "Haleem Kebab"
"I am a big fan of Hyderabadi cuisine and you find Haleem during Ramadan only and I always wondered why. Why can't we have Haleem throughout the year?"
I understand that a bowl full of Haleem is too heavy and that it's apt for Ramadan when you do justice to the dish.
I thought why not enjoy it for the rest of the 11 months of the year as well, so you need something which is a derivative of Haleem and yet something which is enjoyed by everyone. So, kebabs is one such dish which is enjoyed across the world and I took the taste and goodness of Haleem and made it into kebabs to get the best of both the dishes and give it to the world.
Tell us something about your Masterchef experience and how it has changed you as a Chef and as a person
I think the experience was out of this world because this was the first time that I faced the camera and was on Television. I never thought of being in front of the camera. It was very difficult for me to be on TV as I was always a chef working behind the scenes and suddenly you are addressing the nation through the camera.
It has changed me as a chef and person because as a chef who has been always behind, in the kitchen you develop lot of arrogance and whatever little mauka (opportunity) which you get to show case your skills in front of your customers you show arrogance and try to be seen and that's the thing which a lot of chefs have.
I was the same, as I always felt that the best food comes from the Kitchens and professional Chefs. But as I did Masterchef, I travelled across India and tasted food which was made by home cooks in their home-kitchens and I think that's when I realized that the best of Indian cuisine and its good food is still locked up in Indian Home Kitchens and is cooked by Home-cooks. That made me humble, more down to earth, more appreciative and open to learn new things.
Apart from TV and lots of other Engagements as a chef what keeps you busy?
Well, I travel a lot and do a lot of research. Currently, I am researching on the Pickles of India which are more than just the mundane Aaam ka Achaar (mango pickle) and Nimbu ka Achaar (Lime pickle). I am researching on lost pickles, rare pickles which have unique and interesting ingredients or dying and forgotten pickles from every state of India. And I am writing a book on this which would take me around two and a half years to complete because it needs lot of traveling and there is not enough on google about pickles.
I have uncovered so many of them. My recent trip to Nagaland, Assam and West Bengal has taught me so much. I also like gardening and I have a big kitchen garden back home.  And I can say I am a part time gardener as I can tell you in which season which vegetable or fruit is grown. I am also very passionate about photography so I do lot of photography, especially food photography. When I travel, I click a lot of pics. So these three passions keep me quite occupied.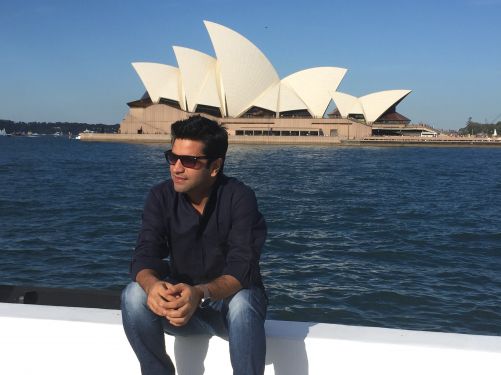 What is "food camp" all about?
Food camp is an effort from my side to create an experiential workshop on different aspects of food and cuisine which becomes a bridge between what is actually taught in Culinary institutions and what is actually happening not only in India but around the world as well. What happens is when you graduate from culinary college, there is a huge gap coming into the real world and you can't blame the college because now a days food industry is just like the technology industry.
As technology changes in every 6 months, there is a lot of advancement in food as well. So, by the time one budding chef graduates, the world has moved on from the trends that he/she was taught at college. Through Food camp, my aim is to create workshops and modules especially for students of hotel management and also for food enthusiasts who want to learn about and understand food.
You plan to travel to all the states of India and document their pickles. How has that experience been?
During my travels I have discovered and uncovered such unique pickles and along with many interesting stories. I recently traveled to Hyderabad where I found one old amma doing an Avakai pickle which is the generic name for pickles, so she made a mango avakai not in oil but in water and she added limestone and kept it in a mud pot. It doesn't require sunlight and is ready in 15 days.
We always think that mango pickle needs lots of oil, its heavy, oily and spicy but here is the same mango pickle with zero-oil. There is a pickle in Tamil Nadu which is made from root called mahali or mahani (sarsaparilla) and its preserved in yogurt. Due to its medicinal properties, it preserves both the root and yogurt. There is a dance form in Meghalaya in which the recipe of the pickle is revealed while the khasi tribe dances. So, pickle comes in a dance form as well!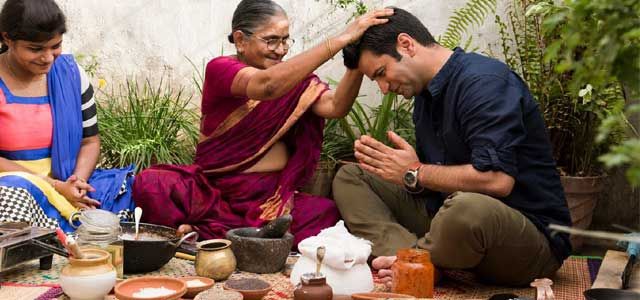 What did you cook for PM Modi?
Ah, the event happened in Bangalore and PM Modi was here along with Angela Merkel, I was told to  cook for them  and I decided to cook something vegetarian. Knowing PM Modi, who is vegetarian, who I am sure wasn't much surprised as the vegetarian course was served but Angela definitely was looking forward to the Meat course which never came. Yet she enjoyed the very simple no-fusion South Indian food in which I am trained.
I made Dosa, Iddiyappam, Stews and Idlis. So, a strict vegetarian satvik food meal was served and she enjoyed it so much that she called me and said "I was waiting for the meat course may be fish but nothing came and I did not feel the need for it, I enjoyed the food so much". This was my chance to showcase Indian vegetarian food which is in abundance rather than giving them their usual meat and steaks making it a complete different experience for the esteemed guests.
How do you see the food scene changing in India?
I think food has become like fashion. Just like fashion has been changing with every season around the world, similarly in the food industry the food preference changes. There is a huge demand of new recipes and cuisines and the supply from restaurants is making it complete, which is a very good thing as everyone would benefit from trying something new every season.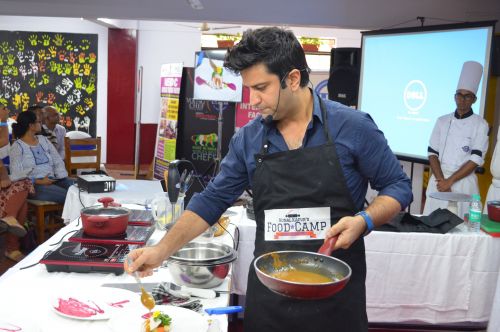 You have worked with NASVI – National association of street vendors India. What has been your role and how does this initiative actually work? How are street vendors who have no name, identity, place or proper training going to change the food scene and be part of the food industry?
When I joined NASVI, I got to know that a bill has been passed that each state of India has to allocate a dedicated street as a food zone for all the street hawkers and register them but not much has been done to implement it till now.  If State governments join hands and take it seriously this would change the course of food industry because street food is the identity of any nation. If you look at the model of Singapore, Thailand, Malaysia, Hong Kong or any South-east Asian Country they all are known as culinary destination for their street foods.
No one goes there to eat in a 5-star hotel, they want to try the authentic food which is found on the streets because it's so organized, clean and hygienic that one would want to go and try it there. So, I am saying that if street hawkers in every city of India are taught about hygiene, they are registered, there are opening and closing hours, they have a dedicated place and support of local government, imagine the amount of business that would drive in and what would be the street food scene in India.
Not just the local customers would drive out to that place, in fact even international tourists would also be interested to try out that food.  Re-invented forms of street food have entered 5-star hotels and become popular so why not promote it from the origin itself i.e. the street.
So, I have got the support from the governments to train these vendors about hygiene best practices because imagine a vendor who is selling simple sugarcane juice and is clean and tidy, his cart is clean there is a dustbin vs someone who doesn't practice these small things. As a customer, you would naturally be attracted to the first one because of the health and hygiene. So, all I am trying to do is educate these street vendors because just by keeping it clean and neat it would generate so much business. That's my little contribution.
As the stories of great chefs of India inspire you, you can also read – the journey of "Namak-Shamak" fame Chef Harpal Singh Sokhi, SuperChef Saransh Goila, Desi -Nigella Chef Rakhee Vaswani, Celebrity Chef Shazia Khan and molecular gastronomy pioneer Chef Vicky Ratnani and Host of best Culinary show "Mummy ka Magic" Chef Amrita Rai Chand.
We thank IIHM, Bangalore for providing us the opportunity to interact and interview Chef Kunal Kapur. Special thanks to Shalini K Charles, Director IIHM, Bangalore and Elizabeth Ngoruh, Faculty Room Division for arranging and inviting Team Plattershare for the informative and fun-filled event "Food Camp". IIHM are pioneers in hospitality education in India and are INDIA'S LARGEST HOTEL SCHOOL CHAIN. To know more details about IIHM and the courses which are offered here, please visit their website. You can follow IIHM, Bangalore on their Facebook page as well.