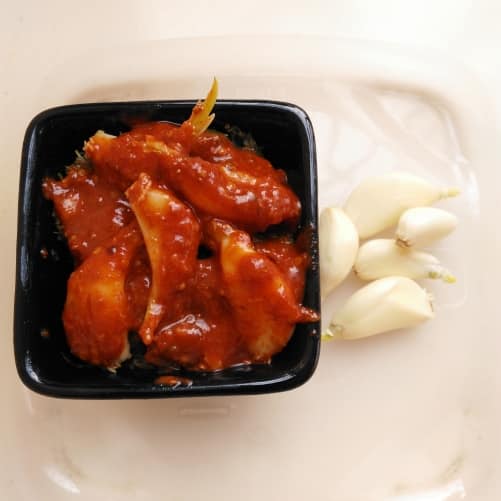 Garlic Pickles With Olive Oil
10 February, 2017
Garlic contains a compound called Allicin which has medicinal properties. Garlic is a plant of onion family. It is closely related to onion shallots and leeks. However through out ancient history, the main use of garlic was for its health and medicinal properties. Garlic fight with cold. Consuming garlic on a dao basis in food or raw helps to control cholesterol levels, blood sugar levels, blood pressure levels, weight loss, skin care and hair fall.
Ingredients
250

gms garlic cloves par boiled

200

gms Olive oil

2

tsp

red chilli powder

1/2

cup

rai paste

2

tsp

turmeric powder

1/4

cup

white vinegar

2

tsp

five spice masala

Salt to taste
Instructions
Par boiled garlic should be dehydrated. Now take a mixing bowl add garlic, chilli powder, turmeric powder, five spice masala, salt, rai paste, vinegar and olive oil.

Mix well together and pour into a glass jar. Close the lid for a week. Then serve with what ever you like.
Notes
It is healthy with olive oil but expensive than regular oil.