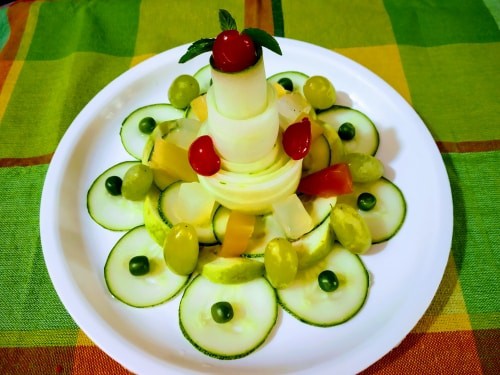 Fruits Salad
26 April, 2018
Healthy fruits salad for weight loss. Healthy fruits salad can help you lead a healthy lifestyle and loose weight naturally. Fruits have long been a staple in Indian recipes because of their health benefits as they are rich in iron, calcium and other minerals. They are the primary food of God as is evident from the heaps of fruits in temples, gurudwaras, mosques, churches, etc. Fruits are excellent for overall well being of humans and animals. They minimise the risk of chronic disease. Nutrients of fruits can prevent kidney stones and helps the red blood cells. Because of the changes in our modern lifestyle, fruits are absent in the diet of today's kids. We cannot force them. We have to change the strategy. Presentation is lively important in this Instagram age therefore, a beautifully presented fruits salad will be more attractive than our options available to kids. I try to use the fruits in my fridge and creatively make something delicious and pretty.
Ingredients  
1

cucumber

1/2

cup

pineapple cubes

1/4

papaya cubes

1

guava

10-12

grapes

10-12

mango cubes

7-8

melon cubes

1/4

cup

boiled green peas

Few pieces of cherry.
Instructions 
Cut the fruits in different shapes.

Some of them in slices, some of them in long strips, some of them in cubes and some can be whole.

Arrange them in layers on a serving plate and it's ready.

Once we serve in a beautiful and creative way, kids will fall in love with fruits again.
Notes
During fast we can live without grains, we can depend on fruits.