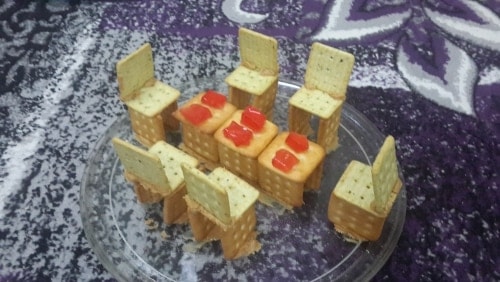 Edible Dining Table
Yummylicious and super duper tasty. This is one of my most treasured ideas because it won me a first place in the edible art food competition. It is made with great efforts and requires a lot of patience. I have used only jam and peanut butter here to act as a glue. This one is surely close to my heart. A delicate work of art, It stands out in the crowd. A dining table that will be loved by kids because they can actually eat that cute little thing. Happy No Cooking Moms !!!!!!!!!!!!!
Ingredients
Britannia 50-50 Maska Chaska biscuits 1 pack

Peanut butter 4 tbsp

Mixed fruit jam 4 tbsp

Jelly pieces as tablemats 6
Instructions
Keep all the things handy to ease out your work. Work in a less breezy corner of the house and keep the ceiling fans switched off too.

It needs a lot of patience. So stay cool throughout. The little chairs will keep falling on and off. However the hardwork will definitely pay off.

Gorgeous looking edible dining table is all ready in sharp fourty minutes by me.