Recipe Taste
Not Specified
Yield / Serves
2 Servings
Detox Spaghetti Bowl is perfect for weekend's brunch..after a exhausting weekdays it helps in detoxification n regaining the energy.
2 Cup chicken or veggie broth
Cook eggs for 10 minutes, later peel n cut them into slices.
Cut the cucumber, red cabbage , spring onion and carrot into thin slices.
Cook Spaghetti in boiling water, once it is 85 % cooked, drain out the excess water and pass it under cold water so that it won't stick together.
Boil the broth and add lemon zest n spring onion into it.
Add spaghetti into broth, add little salt and cook for another 1 minute.
Now add spaghetti n broth in a bowl with vegetables and egg slices over them. Sprinkle salt n pepper according to taste.
Detox Spaghetti Bowl is ready to be relished, it tastes best when hot.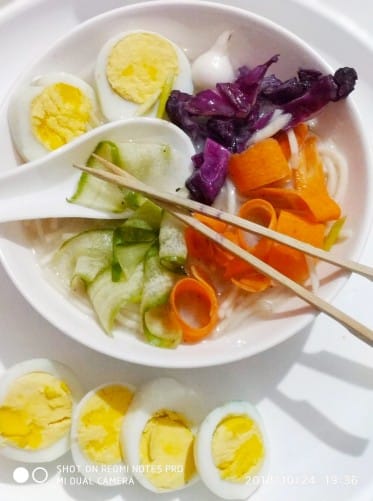 How useful was this post?
Click on a star to rate it!
Rated 4 based on 1 votes
Be the first to rate this post.