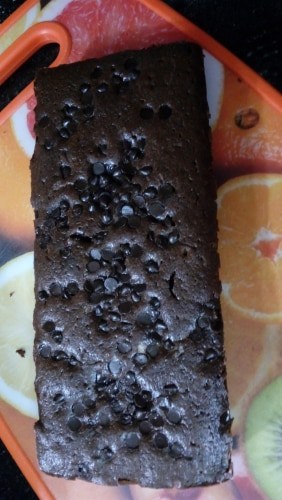 Chocolate Choco Chip Cake (Part Wwf, Chickpea Flour)
Contains eggs chickpea flour whole wheat flour, cocoa powder Choco chip chocolate spread..😍
Ingredients
1/2

cup

WWF

1/2

cup

channa AATA

chickpea flour, not besan

1

tsp

baking powder

bp

1

tsp

baking soda

bs

5

tbsp

cocoa powder

I used Cadbury's.

4

eggs

regular

1

+1/2 tbsp Choco chips

3/4

cup

oil

any, I used canola though

3/4

cup

powdered sugar

1/2

tsp

cardamom powder

2

tbsp

Hershey's chocolate almond spread

1

tsp

vanilla essence
Instructions
Preheat oven at 175 degrees for ten minutes​.

Sieve flours bp bs cocoa pwdr together thrice.. Keep it aside.

Beat eggs and sugar together until creamy and white.. add oil cardamom pwdr and vanilla essence to it and beat further for about five minutes..

Post this fold in the flour mixture.. beat it together for a minute.. now add chocolate almond spread to it.. if the mixture seems too dense(it will be a bit dense though), you can add milk to it accordingly..

You can line a cake tin with parchment paper or grease it with oil and dust it with floor, then pour the prepared mixture in it.. after pouring in the mixture sprinkle choco chips on top of it..

Place it in the preheated oven for 30 minutes or until skewer comes out clean..
Notes
The choco chips in it tend to stick to the skewer when inserted so please check if it's the batter or the Choco chip that's stuck to the skewer.. (I had overbaked a cake owing to this confusion, therefore, giving you all a heads up..)