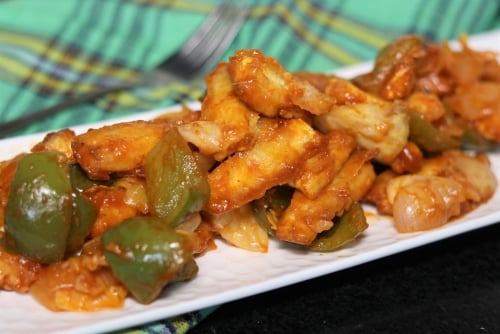 Baby Corn Manchurian In Airfryer
30 April, 2018
See how to make baby corn Manchurian dry recipe. This baby corn starter recipe is crispy, crunchy and tastes delicious. A healthy snacks recipe where baby corns are air fried and not deep fried.
Ingredients
Baby Corns - 8-10 pcs

Corn Flour

Rice Flour - 3 tbsps each

Onions

Capsicum, Cabbage - 1/2 cup cut into big pcs

Tomato Puree - 2 tbsps

Soya Sauce

Green Chili Sauce - 1 tsp each

Salt

Red chili powder - As per taste

Honey - 1 tbsp
Instructions
Wash baby corns and cut into 4 pcs. Batter - Prepare a batter of rice flour and corn flour along with salt and ginger garlic. The batter neither is too thick nor to thin.

Coat all the baby corn pcs with the batter. Deep fry these or preheat airfryer at 180 degrees for 5 min. Airfryer the coated baby corns at 180 degrees for 8 min till crispy enough. Let it cool down and remove the baby corns from the air fryer.

Simultaneously, heat 1 tsp oil in a pan, saute ginger garlic along with all vegetables. Cook for 1 min. Pour all sauces and mix well. Add a mixture of rice flour and water to thicken the mixture.

Add in salt, red chili powder. Do not over cook vegetables to maintain the crispness. Add the air fried baby corns in the vegetables. Coat well and cook for 1-2 min. Serve immediately.