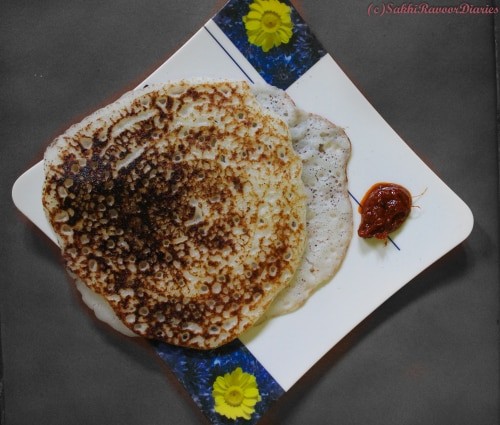 Appam With Ginger Chutney
27 June, 2017
Classic Appam with Ginger chutney which I feel very intersting combination than a regular Vegetable Stew.
Ingredients
Appam Batter: 1/4 – 1/2 laddle

As Batter would be verythick

Water: Required to make watery textured batter.

Ginger: 50 gms.

Tomato: 1

Corriander: 2 Strands.

Curry Leaves: Few

Mustards: a tb Spoon

Oil: For Tadka

Salt: As required

Aam Chur Powder

Raw Mango Powder 1 Tea Spoon.

Jaggery: A half Coin Sized for Chutney.

Red Chilles: 6-7
Instructions
Peel The Ginger, Tomato, Corriander, Salt, Jaggery, Red Chillies, Dry Mango Powder and put it in the Mixer and make chutney with very minimum water.

For Tempering, Add a spoon of oil, Mustards, Curry leaves and temper it and put on Chutney.

Now take the Appam Batter and make it watery texture, 1/4 of Laddle of Batter and almost 1 – 1 1/2 Laddle of watter and pinch of Salt.

Pre Heat the pan and add the watery Appam Batter and Close the lid and wait till batter starts leaving the Pan.

Once done serve the Appam with Ginger Chutney.
Notes
Can also served with Jaggery and Cocnut Combination.