Catering services refer to the preparation and serving of food and beverages, including banquet services. Caterers normally take up contracts of events where they need to offer services like preparing meals for the entire event, and serving it to the guests. A party cannot be complete without a great arrangement of food. For all these services that these people provide, they charge a specific amount of money.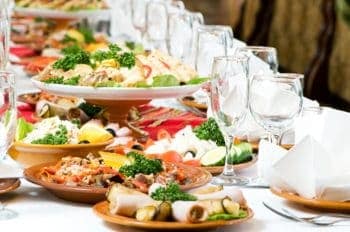 Things to Keep In Mind While Selecting a Catering Company:
1. Focus on Your Personal Needs and Details of the Event: You need to ensure that the caterer you hire for your event can deal with that number of guests. Depending on the type of event you are hosting, you should hire caterers who have experience in serving that particular style of event. By outsourcing the food arrangement to caterers, it can save time while planning an event. Thus, hiring a professional catering company can be really beneficial and this will enhance the mood of your event immensely.
2. Confirm Your Event's Location When Selecting A Catering Company: Since location is a vital factor, you should pay attention location of your event. It is always better to hire a caterer that is locally known. If the caterer is well accustomed to the event place, they will face no problems when serving your guests. Therefore, you should choose a caterer who knows the specific venue.
3. Determine What Proportion Flexibility You Want From the Caterers: The task of party planners or hosts is stressful. Therefore, to make it easier for everyone, all parties need to be as flexible as possible. It is applicable in cases that involve food. Allergies and preferences can lead to complications. Therefore, you should opt for a caterer who is able to look into these details. During the interview process of the caterers for the work, inquire if any eleventh-hour issue crops up, will they have enough backing to solve the issue or not.
4. Inspect The Caterer's Reviews Before Choosing Them: You should be able to trust your caterers and believe that they will stick to their promises. The only way to confirm that you've chosen the proper caterer is to counter check the sources and credentials. Catering companies offer an enormous list of menus to pick from; hence guests can enjoy a wide array of dishes. Reviews and recommendations are the best way to understand the goodwill of a catering company. See the menu they had provided for their previous clients.
5. Go Through The Costs of The Caterers for The Event: It may appear to be a transparent one. However, the cost is a critical factor, given that catering costs can increase to a great extent. Ensure that you choose your options carefully. Any party, whether formal or informal, leaves an everlasting impact on the guests. The hiring of a catering company gives a really professional look to the event, thus giving positive vibes to your guests. Check the extra and all the hidden costs for such services. Check if they have unlimited beverages or is there a limit and the extras are charged.
Ultimately, the choice will be yours. Go through all the above points before you hire the best caterers for your event. The catering services in Australia provide meals for takeaway, catering on-premises, and so on. The Australian catering industry has witnessed a rapid decline due to the global pandemic. However, there are claims that the industry will soon start gaining profits in the next five years. Maintaining proper social norms of the pandemic the catering is arranged and so is the event enjoyed.