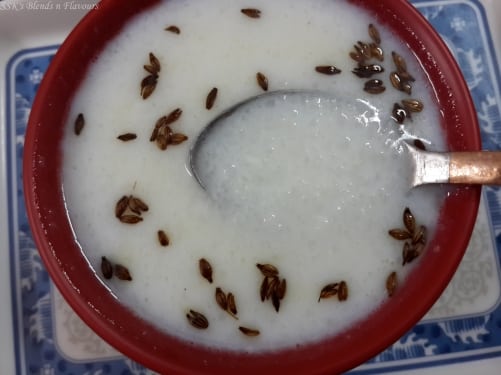 Nugalu Kanji / Rice Sooji Porridge
10 November, 2016
This simple, easy-to-make porridge recipe has been passed over many generations in my family. Delicious in taste and light on stomach, this kanji is more than porridge as it acts as a good remedy for sore throat and cough. Broken rice when cooked and tempered with desi ghee and jeera, lowers the body heat and becomes a natural coolant. Doctors prescribe this porridge for those who are recovering from fever as it is easily digestible. Moreover, this porridge can be given to toddlers also. Once cooked and tempered, this kanji can be savoured in two ways… Either by adding little bit of milk and sugar or with thin buttermilk and salt. Both the versions taste great!!
Ingredients
Broken Rice/Rice Sooji- 2 tbsp

Water- 1- 1 ½ cup

For Tadka

Desi Ghee- 1 tsp

Jeera- 1/4 tsp

To Serve

Milk/Butter Milk- 2-3 tbsp

Sugar/Salt to taste
Instructions
Bring a cup of water to boil. Add rice sooji and let it cook.

The amount of water varies with the type of the rice sooji. Add ½ cup of water more if needed. Rice sooji gets cooked very quickly in 1 or 2 minutes, so keep a check to avoid over cooking.

In a small kadai, heat desi ghee and add jeera. When it splutters, switch off the flame and pour it over the kanji. Mix well.

While serving, add 2-3 tbsp of milk/butter milk and sugar/salt. Mix well and serve immediately.